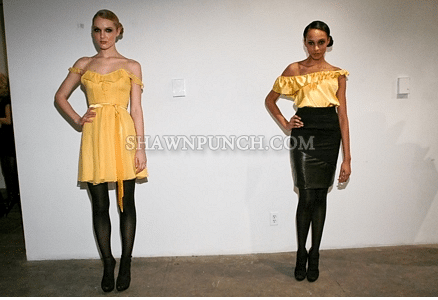 You may know Ivy Higa from her stint as a contestant on Project Runway: Season 8(she placed 8th), or you may not know her at all. Maybe like everyone else, you stopped watching that show after it moved to Lifetime. But if you don't know Higa and her eponymous Ivy h. line yet, there are some good reasons to pay attention. 
Higa's current collection may be her most marketable so far. An asymmetrical dress with leather detail is a striking addition to the LBD category, and several outfits that pair yellow silk tops with high-waisted black skirts would be functional at the office with a cardigan thrown on top, then easily made stunning for that after-work date.
A look through Higa's archives shows that her ideas tend to fluctuate in surprising ways from season to season. Spring 2010 featured models with Kate Gosselin hair (nice) and looks that played with shape and texture to transmit the impression of DIY elegance.  Fall 2010 was completely different, with a schoolmarm-ish severity married casual elegance. A few short months later, Spring 2011 gave us a collection that was light, clean, and probably her best showing yet. 
The collection's only real misfire was a too-literal reliance on motif. Many pieces incorporated wave-like detailing that was more of a distraction than an asset. Sometimes the idea worked – see the aforementioned yellow silk tops – but it was perplexing to see a black and blue ruffle peek out of a black trench, or across the top of a mini dress. Fortunately, this small snag didn't keep her other ideas from being fresh and interesting.