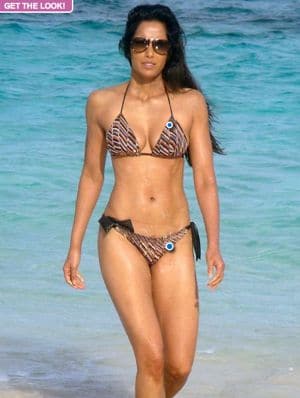 Will you ever be able to look at yourself in the mirror too one day?
Kids, while you and I have been couped up indoors looking for spare match sticks to keep warm, this year's avalanche of perfect celebrities have been cavorting their new trim figures by the azure Caribbean waters. And can we tell you we are impressed, so impressed we're willing to bet that after you read this article you too are going to look for a make shift sit up mat and start doing your obligatory sit ups too.
dailymail.co.uk: Padma Lakshmi proudly showed off her trim and taut body exactly a year after giving birth to her daughter, Krishna.
The 40-year-old former model, who hosts America's Top Chef, looked stunning as she strolled along the beach in the Bahamas on her baby's first birthday over the weekend.
Kids, is there any one out there with a microscope so we can begin to count the number of rips floating up and down Padma's yummy tummy?
Padma stirred up a treat by showing off her rock hard abs in an ethnic print string bikini with black satin bows at the side.
Her long dark hair hung casually down her back and she wore large sunglasses to keep the glare from the Caribbean sky out of her eyes.
But how does she do it?
The Indian beauty recently tweeted one of the tips that keeps her svelte figure in shape by telling her fans to choose healthy drinks like tea instead of fattening sodas.
You mean to tell us Dr Pepper's is now out of the question? Not even a teaspoon of the good stuff to keep our palette nice and sweet?
'Sweetened beverages = greatest source of added sugar in the American diet: Drink green or jasmine tea instead!,' she wrote.
How ironic, that the 'sweetness' that dribbles out of Padma's navel isn't also off diet, but never mind, because when I finally get round to doing my sit ups this evening, I'm going to look for a long straw to attach to Padma's soaking bikini as I suck in all the necessary nutrients that will finally see me smiling on some distant azure getaway romp.