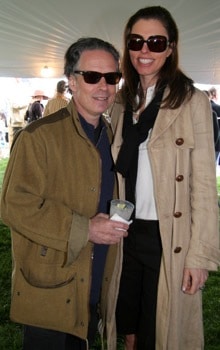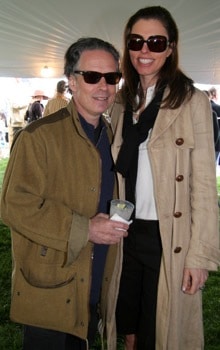 If your ex husband refuses or is unable to pay for your lifestyle does that still make you a socialite?
Oh dear, time for the society scandal of the week. This week's contestants to the nether land of faux pas and in escapable tears goes to Karen Cord and her ex the jewelry designer Barry Kieselstein Cord. Why are we shedding tears you wonder? Follow us as the NY Trash Post gives us an intimate scoop of a deck of cards imploding on itself.
NY Post: Barry Kieselstein-Cord's third divorce is shaping up to be as nasty as his second. The jewelry designer's split with Wife No. 2, Cece Cord, was dubbed "fashion's nastiest divorce" in 1997, when she admitted to scratching up his classic 1968 Jaguar XK-E convertible.
Now Karen Cord says she faces eviction from her Fifth Avenue apartment that she rents for $5,400 a month because Barry can't meet court-ordered monthly payments to her of $10,800.
Uh- oh, kids do you smell the whiff of diamonds suddenly going on sale? 
Poor Karen, she can sure pick them right. Divorced, high and dry and she can barely keep up her social engagements and appearances. And really what's $10 800 between ex spouses? I bet Barry spends that much every time he goes out for a slice of pizza and a glass of bubbly. It probably explains the following….
When Barry and Karen split in August, they moved out of their Park Avenue town house and he moved into a rental. Karen, who lives in a two-bedroom apartment at 1160 Fifth Ave., has typical monthly expenses that, according to court documents, include "$5,000 for her clothes, $1,600 for her psychotherapy, $5,000 for her housekeepers, $3,000 country club membership and $3,000 for her personal grooming." She said she can barely live on the $2,000 that Barry has been paying her and demanded $35,000 per month "to maintain the marital status quo."
"The husband's claims of impoverishment are somewhat mitigated by his recent spending, including airfare of $65,000 for a trip to Rome with a female companion, in July 2010," the judge decided.
Hmm- $35 000 monthly allowance. That's about $34 500 more than this authors – but never mind- I'm not a socialite even if I grovel after them occasionally. 
And dear Barry, what are you doing spending $65 000 on your new girlfriend for? You still haven't learnt your lesson? I mean 1- 2 slices of pizza and a box of the bubbly but $65 000 worth of it? 
And what about poor Karen's personal upkeep of $35 000? That's a lot of spare change to keep up appearances. 
$1600 for psychotherapy? That's a lie Karen- surely with the way things are going it's soon to be $3700 a month.
$5000 for clothes. Oh Karen, you know you can always go shopping at the Salvation Army or just borrow Martha Stewart's hand me downs. Please.
$5000 for housekeepers? Really Karen, what in the world is going on in that house? You must have a whole village residing in the guest room and as one could imagine have the help running around mercilessly tending to their every waking need.
$3000 country club membership? Well, who doesn't have a country club membership that needs to be managed? Last time I checked everyone with a 10021 zip code was born with it stitched into their lapel.
$3000 for her personal grooming. Mmh- define grooming Karen? Does that include nicks and tucks at the plastic surgery, wonderful and relaxing sessions at the spa with a Russian babooshka who tends to your mortal wounds? Or is that just what it costs to buy you some nail polish and a new sanitizer just before you do the dishes?
Which leaves the Countess Karen having to stretch the left over $2000 into a make believe $2 million. Life must be tough when you're a divorced socialite after all. How tough? Well it get's tougher it seems…
Karen told us: "He was told to give me $2,000 a month, which just about pays my cable bill and my cellphone. In November, the court ordered that he pay me $10,800 a month, but he hasn't come up with the money. I need to come up with five months' rent by Feb. 11, otherwise I am going to be evicted before we go back to court."
Please Barry, don't let Karen have to go groveling on 5th avenue, it would be most unbecoming, it would certainly cause a scene and we're willing to bet darling Karen would only end up sleeping on your front lawn.
One day in some distant future when Karen and Barry bump into each other at some high society shin ding they will lovingly look into each other's eyes before turning to their lawyers standing nearby them for a fat wad of crying paper.