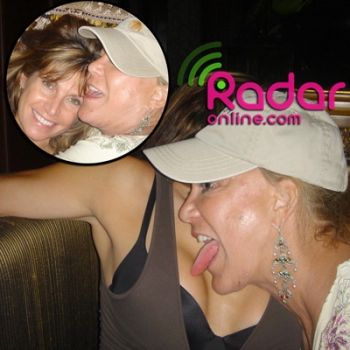 Sonny Bono's widow, six-term California congresswoman Mary Bono Mack, wants you to know that sometimes she lets  loose after a hard day on the Hill by allowing people to photograph her 'close personal friend' licking her breast.
But it's not just any friend; however. It's a hard partying, bankrupt billionaire and used to be a major donator to both the GOP and Mary Bono Mack's Republican congressional campaigns.
Yes, Mary Bono Mack knows how to scandal, kids.
According to Radar Online : The woman apparently licking Bono's breast is Edra Blixseth, a disgraced former billionaire who is at the center of a criminal investigation probing whether she made fraudulent representations about her financial worth to a number of banks.
Blixseth's debts are alleged at $357 million dollars. And that's not all, folks.
Mary Bono Mack, who is also a member of the Committee of Energy and Commerce, is apparently known on Capitol Hill to be what congressional challenger Julie Bornstein calls a 'strenuous partier,' and that she nor other fellow congress members are at all surprised by the pictures, given that they have by now been given ample opportunity to be "embarrassed repeatedly' by her behavior. 
Mmh- are you reaching for your camera too?
Mack who is now married Republican Florida representative Connie Mack in 2007, has yet to comment on the scandal.
We hope this scandal ends with a salacious coming out story, because one Bono sexual identity crisis just wasn't enough.