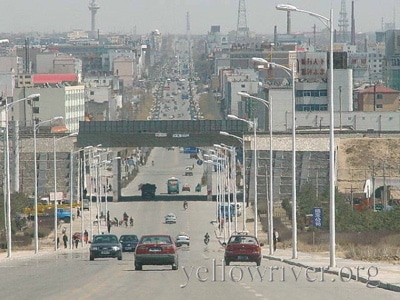 Pursuant to an article – Google's Satellite Images Reveal Chinese 'Ghost Cities' we posted that drew world wide interest in whether in fact there were entire mass un occupied cities in inner west China that went on for miles and could theoretically house hundreds of millions of people we got this one particular response challenging us to assess in fact whether Ordos and similar supposed ghost cities were in fact deserted or not or just the trick of clever photography?
So read on and make up your own minds- The Editor.

Dear S&V Editor:
Please allow me to offer few photos of one of the supposed ghost city, Ordos. Granted it is in Inner Mongolia, one of the least populated region of China where sheep outnumber human (Ordos is known for it's wool sweaters, made by people), it is not a ghost town by any stretch of imagination.
Sure if I take photo of tract housing not yet on market or still under construction, the city will appear empty. If I selectivly take photos of gum on city walls, you'd think Seattle is made of gum.
While I am not be familiar with many of the places mentioned in the story, I am aware of a local real estate group that went to Zhengzhou New District, another place cited as example of ghost city. Here's a mall my friend Mr. Chen invested in:

http://cid-59a256ab6226d1eb.photos.live.com/browse.aspx/2008%20March%20China%20condo%20and%20surrounding%20area
Here are some of the images we downloaded from the above link. You make up your minds.
Here's news on the mall's opening: In Chinese.
http://www.shangbw.com/fangchan/200805/15-2311.html
Here's news of phase 1 in a neighboring development selling out: In Chinese.
http://house.shangdu.com/news/News_Show.asp?ArticleID=70035&ArticlePage=1
[for translation service I suggest translate.bing.com]

Ever heard of a ghost town selling out? I suspect the Google Map may be outdated, as these areas are not places Google pays for regular satellite scans. Anyway, according to Baidu.com, eastern Zhengzhou is a planned suburbanization targeting 3 million villagers in the next 10 years (2.7M by 2015, 3.2M by 2020.) Seems, moving all those people out of Deng era brick farm houses isn't an overnight venture:

http://baike.baidu.com/view/2652373.htm#8

Regards,
Charles Liu
Seattle, WA