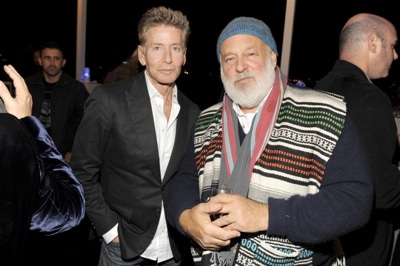 This report was compiled courtesy of Tiana Evans of Nadine Johnson PR.
MIAMI BEACH – Last night André Balazs, Bruce Weber and Nan Bush celebrated the 10th Anniversary of the All-American book series at The Standard Spa, Miami Beach. Over 300 of Weber's friends and admirers including Roman Alonso, Marco Brambilla, Rafael de Cardenas, Chiara Clemente, Douglas Cramer, Cecilia Dean, Poppy Devilleneuve, Beth DeWoody, Klye DeWoody, Sante D'Orazio, Cyril Duval, Barbara Hulanicki, Calvin Klein, Lorenzo Martone, Ryan McGinley, Ryan McGuiness, Lee Schrager, Peter Som Robert Verde and over 300 guests gathered to acknowledge the legendary photographer's numerous contributions to art and culture.
Art Basel's first night out was christened with a surprise live performance by the North Miami Beach High School marching band, a beautiful juxtaposition to the artist and collector filled audience, and an even more surprising dockside tidal wave caused by a passing speed boat that sprayed the crowd during the performance; both surprises were well timed and cheerfully received.