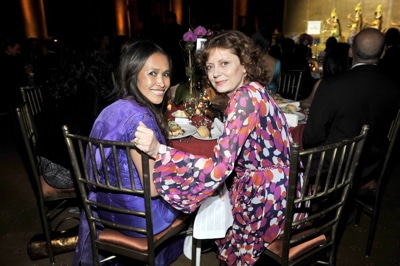 Last night saw a retinue of celebrities and conscientious revelers pay homage to the tireless efforts of Somaly Mam and her enduring fight to rescue, rehabilitate and nurture young Cambodian women who have either been sold or kidnapped into sex slavery in her native Cambodia.
There to lend Somaly Mam kindred support was the sprightly looking Susan Sarandon (who has somehow managed to defy gravity and increasingly looks beautiful as the years go by…) who met Mam at the Torino Winter Olympics in 2006 and from there a cause was made to bring sustenance to exploited young women.
With appalling mention of detail that the world sex slavery generates up to $1 billion dollars annually and that sadly up to 1 in 40 young girls in Cambodia end up in forced sex slavery.
Bill Livermore, the fund's CEO went on to mention that unlike most charities 80 % of the funds collected (upwards of $500 000 was raised last night)made their way to the young women who often spend many years emotionally repressed and violated even if no longer in forced captivity, a haunting note as 6 young Cambodian girls hauntingly recounted their journey.
For this author the highlight came when Somaly Mam paused and looked into the darkness beyond her and exclaimed to the audience dining – 'You are all my heroes.' The thundering applause served to remind us that where there is a will there is a way, despite the ongoing ominous behavior of the Cambodian government which has effectively sanctioned an ongoing cycle that needs to be quashed. Let's hope the current administration applies some much needed dialogue and follow through in this tenuous matter.