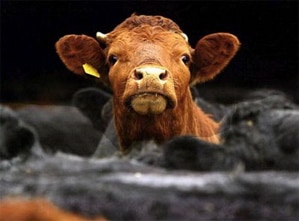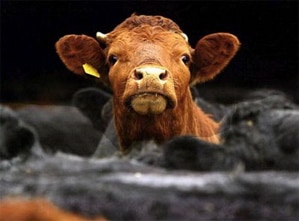 If only cows could swallow their oppressors.
What is it with douches that can't resist the urge to needlessly hurt animals? Take Billy Joe Gregg Jr, a farmhand who somehow mistook life's frustrations for the blunt edge of a calf's soft head…
Source; blog.cleveland.com PLAIN CITY, Ohio — A farmhand was sentenced Friday to eight months in jail for beating, kicking and stabbing calves and cows at an Ohio dairy farm.
Billy Joe Gregg Jr. pleaded guilty to six counts of cruelty to animals and was ordered to pay a $1,000 fine. He's barred from having contact with animals for three years. He must receive psychological counseling.
Which begs the greater question, is this behavior tolerated on cattle/dairy farms or is Cregg just a bad apple in a bin of happy apples?
The video (see you tube video below, but be warned- it is very disturbing) shows the beating of cows in the face with crowbars, stabbing them with pitchforks, breaking their tails and punching, throwing and kicking calves.
Mercy for Animals director Nathan Runkle said cows' tails were twisted until the bone snapped and workers bragged about stabbing, dragging, shooting and beating cows and calves to death.
Gregg was the only worker to face criminal charges. Conklin Dairy Farm fired him the day the video was released and said "the video shows animal care that is clearly inconsistent with the high standards we set for our farm and its workers, and we find the specific mistreatment shown on the video to be reprehensible and unacceptable."

Does this imply that there are other workers who should be punished as well? And really – 8 months in jail? Is that a punishment a little on the light side?

"Gregg's punishment is a slap on the wrist compared to the unimaginable suffering endured by the animals who were victims of his malicious abuse," Runkle said in a news release.
"It's an outrage that in Ohio it's a mere misdemeanor to sadistically punch, beat and stab farmed animals, break their bones and otherwise torture them. This case should serve as a wake-up call to all compassionate citizens that Ohio must do more to strengthen its animal cruelty laws."
Next time you sip on that caffe latte or munch on that brie cheese ponder for a moment if that cow in which it originates from didn't have its head or tail sadistically ripped at and then ask yourself if that latte still tastes as pleasant before you read this article…