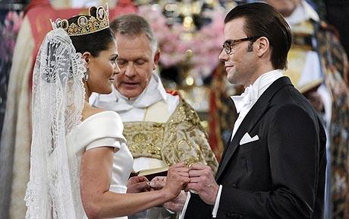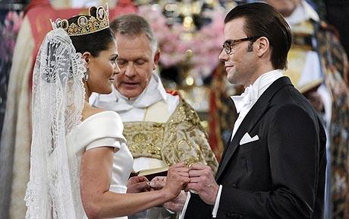 Sweden is hardly impressed…
The fanfare leading into Princess Victoria's marriage to her long time boyfriend Daniel Westling her personal trainer has been rather subdued this weekend. With the royal court piqued that their adamant princess would marry Daniel, efforts were made to take Mr Westling and delouse him of his reported common vulgar sensibilities. That said, despite a quick tumble dry wash the public were not particularly encouraged by their princesses marriage to Mr Westing, who now becomes Prince Daniel, Duke of Vastergotland and attendances were overall low.


But all did not run smoothly as Swedes, many of whom oppose the retention of a monarchy, did not turn out in the numbers expected.
The city had hoped to counter the public's apathy by splashing out eight million kronor on a two week long festival – "Love Stockholm 2010" – to mark the marriage. Public transport was free for the days, stores boasted huge sales and Stockholm's airport was renamed Official Love Airport 2010" for the occasion.
But it wasn't enough to dispel the city's somewhat lacklustre response.
Advance sales of royal memorabilia were disappointing, coming nowhere close to the 2.5 billion kronor forecast by the national retail organisation. Hotels and guest houses who had hoped for record bookings found themselves struggling to fill rooms.

Perhaps the low attendances portend to a general malaise amongst common people towards royal families, where once royal families across the world were revered, it seems with growing economic crises' and general bad behavior by royals as a collective has turned most citizens off. The idea that even a commoner could marry into the royal family may have also dampened the mystery element of what it is once to be a royal. If anything royalty has migrated to a token perfunctory tourist trade office that tourist and locals alike are no longer particularly enthralled with. Perhaps, reality stars and celebrities with more media clout have become the new royalty…

Source: UK Telegraph