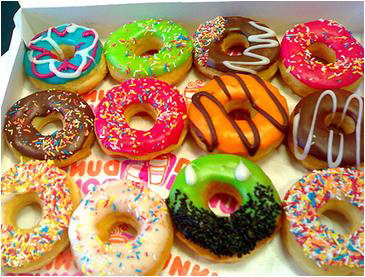 If you're addicted to sugar like I am, a glutton for bread, or just plain fat then you'll be quite delighted to know that today is National Donut Day!
Now of course I'm here to bring you the 411 on exactly where we can all stop by and get our free donuts; but it wouldn't be right if I didn't give you a little history first.
For those that think a donut couldn't have a holiday, well screw you for trying to ruin my dream because National Donut day has been around since 1938. It honors real people (whoever that is) and the women that served donuts , coffee, pie and comfort to the American soldiers during World War I.
Who ever thought fried bread could taste so good. It's not about the glazed donut anymore. Sugar-aholics all over the country have opened their own donut shops and added their own spin to the sugary treat. Such as adding cereal, gummy bears, chocolate (on the inside) and even candy bars.
But I'm going to tell you where you can pick up a good ol' fashion donut…for FREE.

Krispy Kreme: All customers receive a donut FREE of charge.
Dunkin' Donuts: Receive a FREE donut with the purchase of a beverage.
LaMar's: Receive a FREE Ray's Original Glazed donut.
Shipley Do-Nuts: Receive a FREE glazed doughnut with purchase until 12pm.
Okay, so I guess you know where to look for me today, and 'no' I was in line before you were, so scram!
Enjoy!