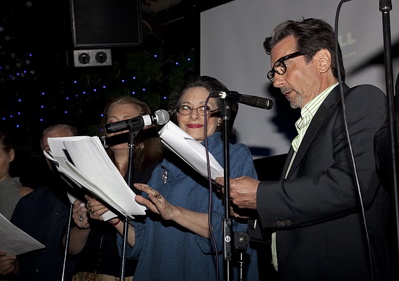 Last night I had the pleasure of attending Allegra Huston's (yes, the film actress Angelica Huston's sister who was also present via satellite videdo) reading of her new short film titled 'Good Luck, Mr Gorski,' a clever piece that deals with a day in the life of the Gorsky couple upon their neighbor a now grown up Neil Armstrong reaching the moon. What made one summer night in 1969 a memorable evening was when Neil Armstrong was the first man to ever set foot on the moon and to announce in front of the world- "One small step for man, one giant leap for mankind," and also 'Good luck Mr Gorski." What of course Mr Armstrong meant by that is the whimsical focus of the screenplay. And to be fair, I'm loathe to give anything away except to say it's the type of things that couples sometimes say to each other when their needs aren't being met.
For those of you who don't know Allegra Huston, she is an accomplished writer in her own right, having written 'Love Child:A memoir of family Lost and found,' as well as various articles for such publications as The Times, the Independent, Harper's Bazaar (UK), French and US Vogue all remarkable and enviable journals. As to why she embarked on this particular script she mentioned to me she had always been curious as to what Neil Armstrong had meant when he mentioned Mr Gorski upon landing on the moon, which would eventually lead her doing some research and coming up with this charming little screenplay.
Guests.

Fortunately for Ms Huston, she had the benediction of having some accomplished guest actors read for her, never mind her well heeled audience (some writers have all the luck it seems…). Reading the part of Mrs Gorski was accomplished actress and once editor of French Vogue-Joan Juliet Buck, and Griffin Dunne the part of Mr Gorsky. Other actors present included Aimee Mullins, whose film 'Into the Woods,' is set to be released in the fall of 2010 as well as John Buffalo Mailer– playwright, journalist and actor (look out for him in Oliver Stone's "Wall Street 2: Money Never Sleeps."). Other performers also included Trey Speegle, Gideon Glick, William Kozy and David Dempsey.
In the end we hope the reading and ancillary silent auction was a good start in helping Ms Huston in raising necessary funds towards the production of the screenplay and we trust fun was had by all.
To read the script and to make a contribution go here