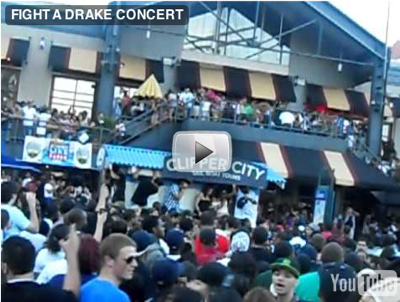 The nonsense that youth listen to today.
Last night Canadian rapper Drake gave a free concert at South Street Seaport. What ensued was total mayhem, but that is what you get when the youth of today have no appreciation of talent. Gothamist explains for us.
the "evening ended with chairs being thrown into the crowd, mace being sprayed, and reports of table being tossed from a second floor balcony." Also: Stampeding, pushing, shoving, throwing plants, and breaking the mixing board (according to Hanson, who was also on the bill!).

Which is a round a bout way of saying everyone save for the ones who got trampled and vomited on had the time of their lives.

The concert was put together by Paper Magazine, and 10,000 people were expected…but estimates say 25,000 people showed up—fans had started gathering at 3 p.m. for the 6 p.m. show. A South Street Seaport spokesman, John Reilly, said, "While the South Street Seaport and Paper Magazine were looking forward to a great kick-off concert for the summer season, our primary concern is always the safety of our guests. Unfortunately, by the announced showtime, both the Seaport management and NYPD estimated that the onsite crowd had greatly exceeded this safe capacity, was still rising, and the show could no longer be presented in a safe atmosphere."

What the world forgot to tell Paper Mag is that if you throw a free concert for a public figure who portends to be their savior expect to see 65 times the expected turn out. That said, this probably made everyone even more giddy and more inclined to look for spare chairs to throw at the second story windows.
And Drake? What does Drake think about being annointed as New York's new public nuisance and savior?

Through a spokesperson, Drake told the Daily News, "I am humbled by the crowd that showed up in support of my performance. Unfortunately, the show was canceled by the NYPD due to overcrowding, leaving me without the chance to give my fans a real show." In fact, Brooklyn Vegan says that the only live music the crowd heard was Hanson's sound check and less than one song from Ninjasonik.
All in all it was a fabulous evening, thankfully we are thrilled we overlooked this stupendous affair. Let's hope Drake reminds us to turn up next time he drops by along with the 69 000 people who will be there too…
Watch the video below in disbelief…