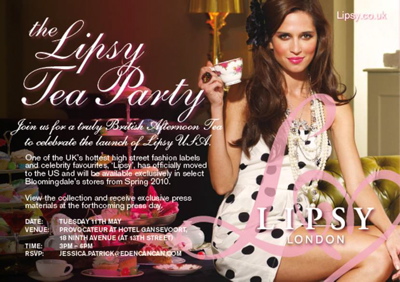 I got a sneak peek at the Lipsy London-now-available-in-the-US Spring/Summer 2010 collection at a fabulous 'girly' tea party hosted at the posh new venue, Provocateur (Hotel Gansevoort).
Already one of the UK's hottest fashion labels, Lipsy is now available in select Bloomies and online and will appeal to young, trendy, confident, flirty, fun, sexy, "fierce" ladies who already shop at Bebe, Top Shop and Juicy Couture.
Sure to entice are the wide variety of party dresses with an array of feathers, ruffles, sequins and beading.
Lipsy already has an impressive celebrity following around the world. Lindsay Lohan, Paris Hilton, Kristin Cavallari and Taylor Swift, to name a few…