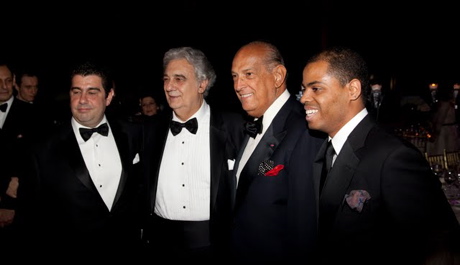 Last night welcomed the spectacular visage of El Museo's annual Gala at midtown Cipriani's where society and media gathered to pay tribute to some of the greats (nay legends one supposes…) in the arts- principally that of Placido Domingo who has been an inspiring beacon for many and a wonderful role model for the Latino community which has gone on in excelling itself as an important presence on the world cultural stage.
With an emotional Julian Zugazagoita (until now the museum's director who will be sadly leaving NY to take the reins at the prestigious Nelson- Atkins Museum in Kansas City) heralding the evening, guests alike were enthralled with some heart breaking elucidation of the museum's cause and its' passage. It was commented at one stage by Tony Bechara, the museum's long standing board chairman when the galas first started there were only a handful of guests and a modest $35 000 raised. How remarkable that today with the assistance of the charismatic Yaz Hernandez (a dear favorite personality and inspiration of this author) a noted social figure and philanthropist with her charming husband Valentin (gala co chairs alongside with Renée and Alvaro Domingo) the gala in recent years has superseded itself, translated across world borders and in fact last night raised over a million dollars for the museum.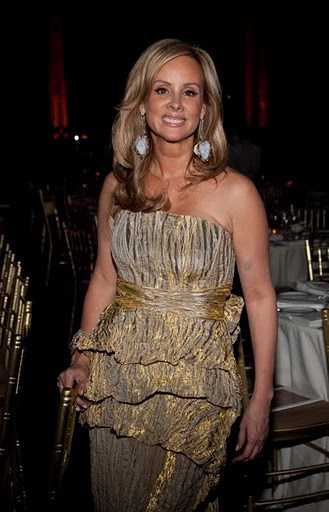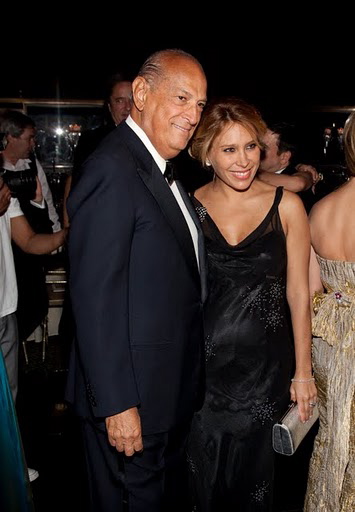 Prior to the ceremony and dinner proceeding cameras and society were in a busy whirl as guests kept looking through gilded revolving doors to see who would arrive next. It was in fact when Placido Domingo and the legendary fashion designer Oscar de la Renta finally arrived that one could have been forgiven for thinking that they had just entered a pandemonium of dizzy reporters and camera men viciously clicking and scribbling away- one of those rare delicious sights that presents itself when the greats unite in a public forum.
At last finding an opportunity to speak to Mr De la Renta I was beguiled to learn when asked how he had found himself the center of this evening's proceedings when he pronounced he had come for the legendary Barbara Walters, who for the fact of her critical health was unable to make it that evening (she had planned to be mistress of ceremonies)
Of course all became clear when Mr De la Renta took to the stage and began reading Ms Walter's heart rendering letter which left various guests visibly shaken:
An excerpt was as follows:

"Dear Placido: Only an injured heart would keep me from being with you tonight. You may have heard that I have had recent surgery to replace a faulty heart valve. I am doing very well but not quite ready to jump rope or go out. How I wish I could say these things in person. You are the musical genius of our time..that glorious voice…who else can sing both as a tenor or baritone…and conduct a symphony orchestra…and administer an opera company..and teach and encourage and inspire. You are superb in every capacity."