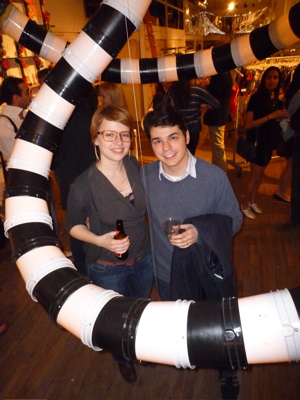 In our short-attention-span culture, the idea of the pop-up show, exhibits, or just about pop-up anything seems rather appealing and exciting. For a short time, shops or exhibits are set up in a rather unconventional settings and then "poof!" Just like that, they shut down, close their doors and the opportunity to experience it is over.
Something of note that should be experienced right now is the Point Suite Pop-Up Art Show at the painstakingly curated clothing and accessory boutique INVEN.TORY in Nolita, before it closes on May 14th. Pulling over a dozen art pieces from the soon to be published Point Suite Art Book, Annika Connor of Active Ideas Productions in conjunction with the curatorial guidance of Justine Durrett and directorship of Ghislaine Cardon invite visitors and shoppers alike to contemplate the crossovers that lie between contemporary art and fashion.
I felt as though it was just that; visitors, shoppers, friends and art collectors who came out in droves this past Friday night to celebrate this marriage of a kaleidoscope of creative's at the exhibits opening reception. The night was all about interaction. In between drinks with friends, viewing art and browsing INVEN.TORY's stock of wares, I couldn't help but really feel as though the Point Suite art installations were incredibly organic to the space, in the most perfect of ways.