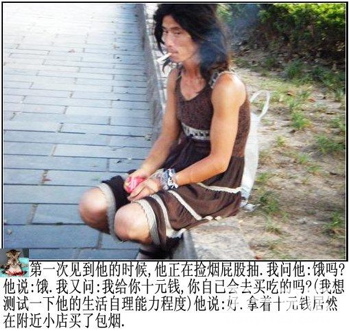 Even homeless bums can now make it to the world's most Beautiful list…
If you listen to Hollywood the way it goes is if you happen to be beautiful and the sunshine to everybody's life you are more than likely to find yourself the token preferred object of society and of course very well taken care of.
Well not necessarily…
Out of downtown China comes the fascinating tale of Brother Sharp. Let's have a look and we caution you this guys 'killer looks' are to (sort of) die for…
Courtesy of China Smack:

"Those sad eyes/that sad expression, the sad mustache, the miraculous godly hair, and that messy hair, all of it has deeply captivated me." …Recently, a very hot/popular beggar post has become famous on the internet, the post narrating what netizens have hailed as "The Ultimate Gorgeous #1 Passerby Handsome Guy" beggar. Owing to his unconventional, nondescript appearance as well as his original "mashup", netizens have begun following him.