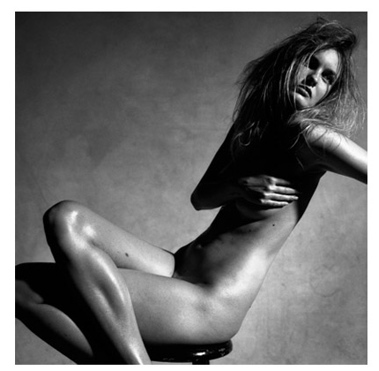 If there is one person we should be paying attention to in the appropriation of beauty, that person would clearly have to be Victor Demarchelier. The son of famed fashion photographer Patrick Demarchelier, Victor has already proven that he can run his own fashion campaign and this proof was all the more beguiling in the shape of his muse Caroline Trentini who was seen the embodiment of friction, darkness, lightness and sinewy long lines interrupted by sanguine objects qualifying for her beauty at the recently opened exhibit titled 'Creating Images,' at Click Gallery.

With a very heavy fashion crowd in presence (fashion designer Zac Posen, a gaggle of super beauties that not even this author could resist observing and the heavy patina of French accents…) I was able to take Victor away from his adoring fans to ask him a few questions.
SCV: What is beauty?
VD: It's what you feel.
SCV: What were you feeling when you took these images?
VD: I wanted to document texture, line, shadow. To contrast this with silence, brooding and the long limbs.
SCV: Is it a spontaneous creation?
VD: No, in fact, I keep it to myself for a long time and when I decide I am ready I go for it. My work is very personal to me. It's also about  my childhood.
SCV: How does working as a fashion photographer influence your work?