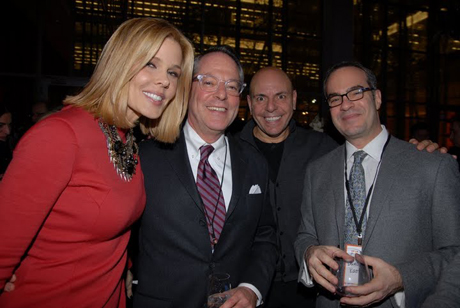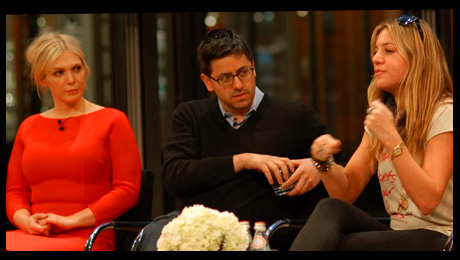 Studio 54 was many things, drugs, sex, drugs, and a Mecca for fashionistas.  It was an era where art, music, and fashion took precedence to "the Man."  There was a time where business, consumers, and the media had little affect on the industry.  Oh, how the times have changed.
A panel of media and fashion experts gathered at The Times Center, a marvelous building in which ironically even The New York Times is having trouble maintaining (thanks to the internet.)  Mary Alice Stephenson, an all around fashion expert, moderated the roundtable in a discussion on the impact today's media has on current fashion trends. The main reason for the event was to promote the YMA Fashion Scholarship Fund, a program providing scholarships to aspiring young individuals looking to make a name for themselves in design, retail, and fashion.  Since its inception in 1971, the YMA FSF Fund has paved way for more than 700 students nationwide.
While its well-known that fashion trends are cyclical on a six month basis, it's amazing to hear just how much quicker that cycle is churning thanks to the bloggers and vloggers posting on the World Wide Web.  We're living in the "now."  Our ability to see what celebrities, icons, and Michelle Obama are wearing, immediately after a red carpet appearance, constantly reestablishes "what's hot." Whereas prior to the facebook explosion, it may take three months for an image to catch on, now we're on top of that new Christian Dior gown the moment it makes its way onto TMZ.
A hearty thanks should also go out to the sponsors of the evening- LIM College and DOW XLA™.
Also going forward-

The 2009 FSF Roundtable is a precursor to the highly anticipated 2010 FSF Geoffrey Beene Fashion Scholarship Awards Dinner, which will be held on January 13th, 2010 at Cipriani 42nd Street. This event is the FSF's principal fundraiser held annually, with 100% of net proceeds going directly to FSF programs, and will formally celebrate the 2010 FSF Honorees—Margarita Arriagada (Senior Vice President of Merchandising at Sephora), Thomas A. Kingsbury(President & CEO of Burlington Coat Factory) and Robert L. Mettler (former Chairman & CEO Macy's West)—for their contributions to the industry.