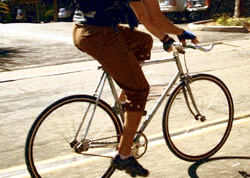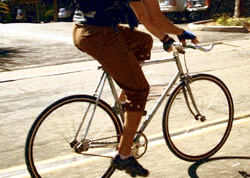 Turmoil along Bedford Ave.
Seems life is getting a little perilous for the South Williamsburg set. Long time home for the strict Jewish sect the Hasidics they are now been forced to deal with unruly hipsters who want the Hasidic community to know that Pabst beers, exposed bellies and full on irony is here to stay. At the behest of the Hasididc community the local municipality removed bike lanes along Bedford avenue citing 'religious and safety' issues.
According to the NY Post:
Scantily clad hipster cyclists attracted to the Brooklyn neighborhood made it difficult, the Hasids said, to obey religious laws forbidding them from staring at members of the opposite sex in various states of undress. These riders also were disobeying the traffic laws, they complained.
How do you think the hipsters reacted? Well they set about repainting 14 blocks of bike lanes. But there was a catch…
Two cycling advocates were apprehended by the Shomrim Patrol, a Hasidic neighborhood watch group, as they repainted a section of bike lane at 3:30 a.m. yesterday, but when cops arrived, no one was arrested and no summonses were issued, police said.
Mmhh, the neighborhood watch group, what an interesting group indeed…
But what else is at stake? Let's read on…
A source close to Mayor Bloomberg said removing the lanes was an effort to appease the Hasidic community just before last month's election.
Yes appeasing influential voters always goes a long way until it doesn't. What else?
But Baruch Herzfeld, said safety is not the issue so much as xenophobia.
"They don't want the hipsters in their neighborhood," he said. "It's like in Howard Beach back in the day when they didn't want black people in the neighborhood."
But hipsters aren't black? They're just ironic right?
The cycling advocacy group Transportation Alternatives has not taken sides in the dispute.
The moral of the day- hipsters should walk and catch the train through South Williamsburg because the Hasidic community has a hard time dealing with irony.