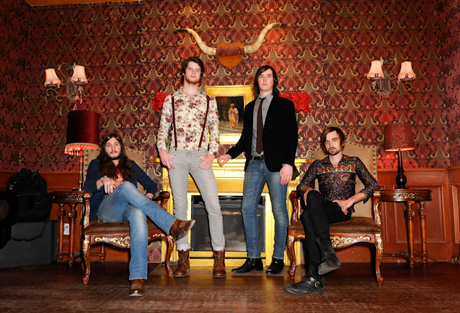 From the outside of Haven, the lounge that played host to the Harboring Hearts benefit, one could make out the visage of preppy young men sauntering and the girls who adore these lads.
Greeting guests in red gowns were the co-founders of Harboring Hearts Housing Foundation. The lovely young ladies discussed the cause, with one hundred percent of the proceeds going to provide affordable housing for cardiac patients and their families, during their time of need.  Co-founder Yuki Kotani emphasized that each of the members had been touched or affected in some way as a result of cardiac complications.  The feeling of claustrophobia and disdain for frat atmospheres had been put aside.  A ticket to the event cost anywhere from $65 to $80.  So the more the merrier.  After all, this was for a good cause.
The line for the bar was congested and the girl to guy ratio was not in this observer's favor.  After scanning the room for interesting characters, the three men who stood out were a rock band from Delaware named American Buffalo.  Their long hair and sixties attire could make other guests wonder if they were tripping on acid.  After speaking with guitarist Andrew Price, it was disappointing to discover we weren't about to hear their hard rock anytime soon.  It turns out they were bumped for DJ AK.
Once the vodka was kicked, the party began to spill out.  It should be noted that the bartenders, DJ, and venue (Haven) were all donated for the cause.  After all was said and done, the charity looked to be a whopping success, making us believe this will be a new annual event.