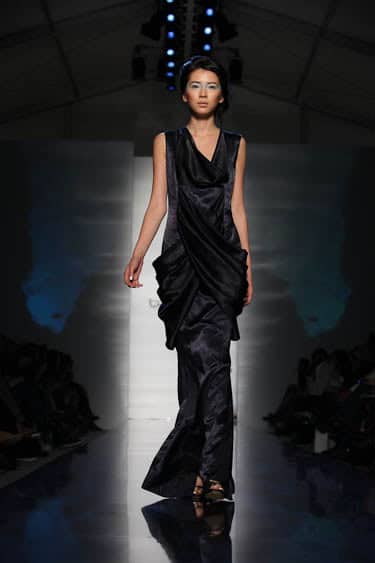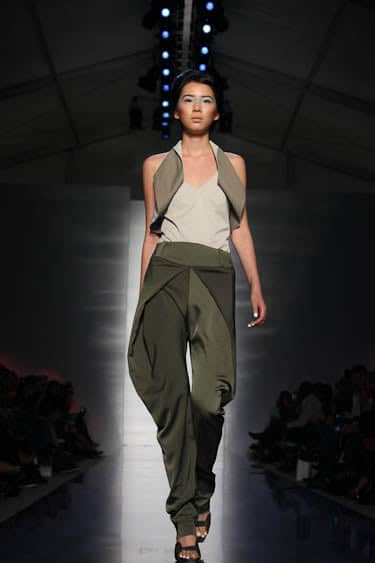 TONI FRANCESC Spring/Summer 2010 collection specializing in fresh urban clothing for the young, sophisticated woman.
As the lights dimmed around the Salon at Bryant Park, celebrities such as Project Runway winner Leanne Marshall and Real Housewives of New York star Alex McCord and her husband Simon Van Kempen all turned their heads to the front of the runway. Two huge projection screens stood on either side of the main runway and began showing a collection of videos of water. With "Water" being the theme of the night, the images on the screen ranged from a calm ocean, to bubbles, puddles, and fountains all being interlaced with one another to the beat of an exciting song. This was the setting for Toni Francesc's Spring/Summer 2010 collection – a fashion designer specializing in his "fresh urban clothing for the young, sophisticated woman."
Waltzing as opposed to strutting– the models came out in a slow deliberate manner almost as if to imply water. Although the music sped up and gave into the buoyant music that have become all too familiar in fashion shows, the show opened with a quiet and almost eerie sound of the water drops. The clothes all screamed the designer's vision of water as they were all muted colors such as white, black, navy blue, silver, and green. Some clothes were tie-dyed in the same colors – even though the concept of tie-dye seems very 60's and 70's it worked on the runway as it echoed the concept of ripples of water. The clothes flowed like water as the slinky material cascaded down the sides, fronts, and backs of the models' bodies like a waves of water or the skeleton of a seashell. Even with some form-fitting outfits made with more simple materials like cotton, there was always the common thread of the ruffles, soft silk, the draping and superimposition. With some tops paired with tight pants, to long dresses that waved ever so gently down the runway, to shorter dresses, the clothes highlighted the "silhouette of a dreamy, sophisticated woman."
With the trademark of having a theme, which is what Toni Francesc always does each season, the unity and connection between all the outfits and the overall show was inevitable.
For the Spring and Summer of 2010, wearing Francesc's clothes in the heat of summer will be a refreshing splash of fashion.