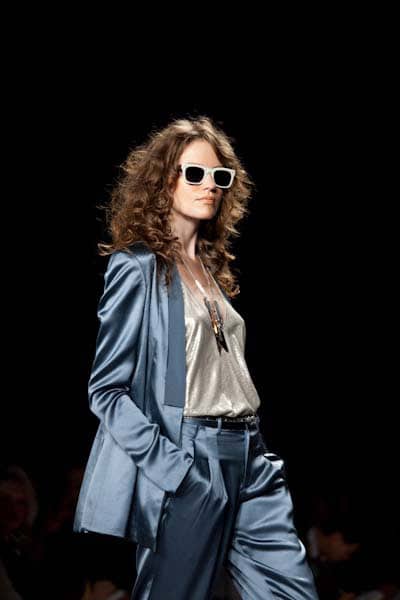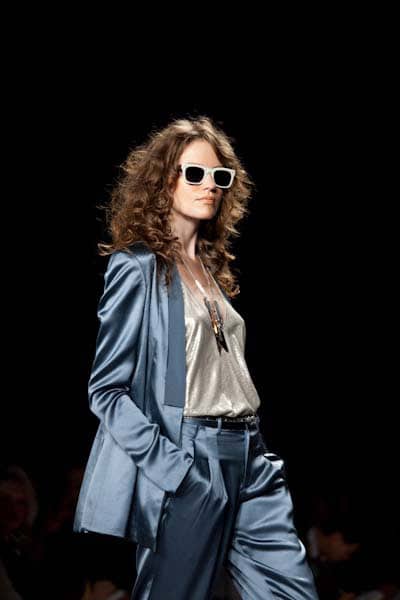 Coming to the Monarchy 2010 Spring Collections was ostensibly an exercise in learning in how to renegotiate one's wardrobe to the mantra of post yuppie lexicons, post 80's, 90's and 2008, of embracing laissez faire attitudes but most importantly looking incredible cool, rich, glamorous, relaxed with a knocking wink – (even though the world has collapsed) to your passion for racing yachts and reading anything ever written by F.Scott Fitzgerald. With that said, the boys and girls began their effortless trek down the runway, pummeling to electro glam and a steady breeze behind their yacht… 
First out their birth was a suave pinstripe suit, then a grey cashmere suit fitted with chocolate hues, crepe undertones, slim binding and origami pleats and of course lest we forget razor thin edge models with jet hangers for cheekbones… Pummeling to pulsating electro rock (the preferred catwalk soundtrack at this years collections) the models continued bundling down the runway with relaxed outfits, plaid sports coats, crepe scarves, khaki twill trousers and more pinstripe accents that kept you wondering whether  the yuppie was dead or just been re branded.
With a touch of parody the models were mostly sent out wearing oversized sunglasses, either to hint at mocking of rigid attitudes, to keep the collection feeling light and youthful or simply to keep the sun out when birthing out of St. Tropez where these kids all holiday, come from, speak of, and will always look forward to visiting.
With modern day sportswear and an avid sexiness we agree that Monarchy pulled off another well executed  collection that hinted at the gentle poking of our serious side and the overwhelming desire to be dashing, glamorous and sailing out to sea.
Click here for Scallywag's Photo Gallery.