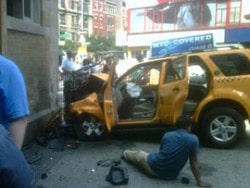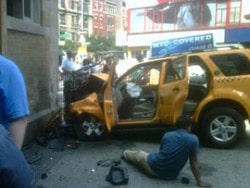 When uptown nerves become suddenly frayed…
For those of us who live in NYC we know life at best is perilous, ad hoc and continuously on the go. For a certain type of lifestyle and excitement we are open to the challenges that life may prevail. That said when a flying out of control cab knocks into one of the most iconic parts of town- the 72nd Broadway subway stop one suddenly has to consider how safe is life in the big apple after all. Specifically how safe is life on the Upper West side.
Confused and frustrated and (some crushed bystanders no doubt) watched in disbelief as something that only ever happens in France or other third world nations took effect- a careening out of yellow cab which crashed into the subway embankment leaving 3 people injured, one seriously and another 450 000 Upper West Siders cringing to their core and questioning whether living this close to Zabar's and Fairways is really worth it.
In any event lest any of you Upper West siders consider moving to the Upper East side or worse downtown re assure yourself in the knowledge that it was probably a freak accident and having to buy gourmet food downtown will probably mean having to contend with unsavory downtown types and the type of people your parents taught you stay clear from.
It takes an out of control taxi to paralyze the Upper West Side.