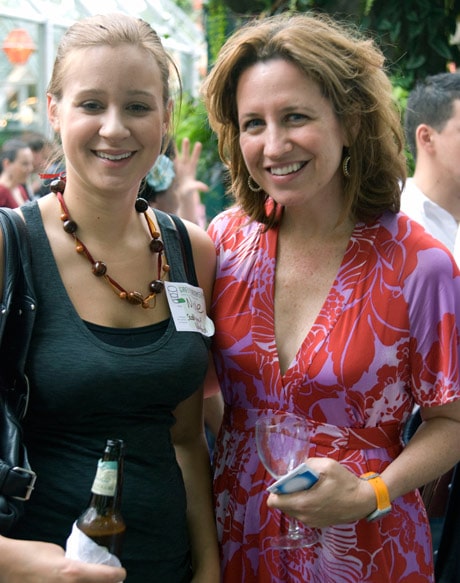 Central Park's Tavern on the Green may be known for its old money stuffiness, but you wouldn't know it when its garden courtyard is taken over by 8 year old networking organization Green Drinks. The environmentally minded nonprofit typically hosts networking evenings at bars across the city on the second Tuesday of every month, but decided to go all out for July's Summer Soiree.
Since its 2002 New York inception, Green Drinks has expanded rapidly, and it's not hard to see why. As the eco-chic lifestyle came increasingly in vogue (think Priuses, An Inconvenient Truth, German polar bear-lebrity Knut, even Obama's election), the greeneratti needed a place to network too, just like those of us working for faceless, evil corporations.
Not to imply that Green Drinks is stuck up; they just have a sense of occasion. After filling the Lower East Side's BLVD to capacity for their 2007 Holiday Party, NYC Founder Margaret Lydecker realized that the organization had arrived. "That's when I realized we had really taken off," said Lydecker. The group has expanded mostly through word of mouth (they only got their website up and running two years ago). The Obama election energized organizers as well. "Everyone was able to exhale."
Despite the environmental theme, this was no granola-eating-Birkenstock-wearing crowd. Attire ranged from "just got out of work" to "just got off my yacht" with most falling somewhere in between. In spite of the professed theme of the event (networking), those concerns seemed more like an afterthought. A few lonely tables in the back professed to be dedicated to discussion themes like Alternative Energy, Greening your Workplace, and (loneliest of all) Employers Seeking Employees.
The atmosphere could be described as "classy outdoors." Considering the locale, it was only natural (no pun intended) that the garden was immaculately landscaped and manicured. Festive lanterns swayed overhead while a three piece jazz band rocked up front. Sponsoring tables were filled with snack which all seemed to require an inordinate amount of adjectives. The tomato basil Cabot cheese was also lactose free. Veggie dip was vegan organic. Vegan mushroom fritters were garnished with coconut ketchup. No one's ever told me how really good vegan chefs get their "cheese" so creamy and "meat" so realistic, so I'll just assume the process somehow involves killing (organic) babies.
Head over to GreenDrinksNYC.org to sign up for the newsletter or get the details on their next eco gathering.