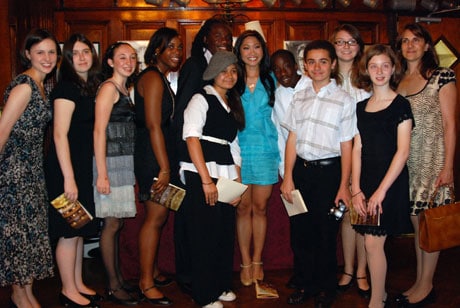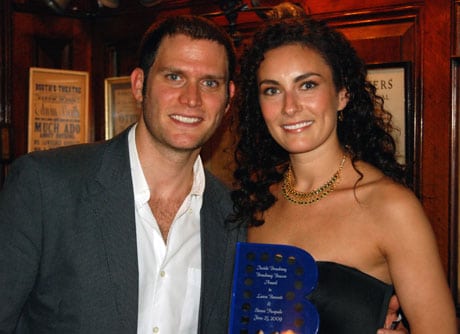 If there's no business like show business, then there's no place like the Player's Club in Gramercy to celebrate its merits.  A veritable shrine to the arts, with an impressive thespian lineage, the Player's Club shone Thursday evening as host to the 2009 Inside Broadway Beacon Awards. In this time of economic uncertainty, it is easy to write off "the arts" as an unnecessary expense on our increasingly red balance sheets.  "Inside Broadway" has both promoted and financed the theatrical aspirations of over 750,000 youths over the past 26 years.  Every year, an awards ceremony is held to honor those performers who have an upstanding commitment to the arts in their community.
The time has come and gone that one can afford to affect a philanthropic disposition.  When money is tight, charities are often the first to go out the bay window; theatre tickets themselves generally go next.  The crowd this evening was of a different set. Fox 5 News Reporter Julie Chang, herself a Broadway child, emceed the event, lending wonderful vibrancy to the stage. She surveyed the audience from her podium, a consortium of theatre aficionados sitting in the erect posture of anticipation, wine stems slowly rotating between manicured fingers, and engaged in a gentle twitter of conversation—"so, what have you seen lately?"
"Here I am", I thought, "in the midst of a dying race, in the presence of real, live, theatre-goers!" Two young men in uniform sat beside me, dressed to impress, and I realized that they were members of the JHS 278 theatre troupe that was to perform later on in the evening. As they nervously looked around the room, alternating smiles with quiet contemplation, I wondered if they were aware that Andrew Tisch wasn't sitting too far off.  I wasn't. The sound of his name being announced from the podium made me sit upright. Mr. Tisch was to present one of the three awards that evening, to Alan Momeyer, Vice President of the Loews Corporation and a member of the Inside Broadway Board of Directors.
Constantine Maroulis, the Tony-nominated star of "Rock of Ages" and one time American Idol contestant was honored as well.  The face that launched a thousand late night comedy routines appeared in perfect form; he really is a stunning man to look at.  Judy Kuhn, of Les Miserables and She Loves Me, not only received an award but also sang for us.  I now understood why the stage was left unfurnished.  Her voice was beautiful, and excessive props, costume and all that jazz would have been absolutely ineffectual, if not ostentatious. Her voice carried throughout the Club, reverberating off of the wood paneled walls and their dramatic hangings—oil based portraits of players past.  The antiquated air of the place, the creaky wooden floors and sleek C. Bechstein Piano adorning the stage matched the understated elegance and poise of all present. When she paired with Malcolm Gets for a duet, the evening was complete.  How many chances do you get to see this stuff up close?
The final award of the evening went to Laura Benanti, of Gypsy, and Steven Pasquale, of 'Reasons to be Pretty' and 'Rescue Me.' A young couple, vibrant and with obvious commitment to one another as well as their craft, Laura and Steve are the perfect role models for young theatre aspirants.
"If someone told me I would be here today, accepting this award," said Laura, "with my best friend and the love of my life, I would have said it was too good to be true." Adorable.  Inside Broadway is a wonderful example of community involvement for a good cause.  As the evening ended with a vibrant performance by JHS 278, singing "No Business like Show Business," I sat back in my chair and wondered—will one of these kids be accepting an Inside Broadway award ten years from now?  In times like these, it is common to cope with change by placing hope in the future.
"Things will get better, these kids will be alright; the arts will survive." The Player's Club is a social monument; its imposing grandeur is testament to the powerful role of art in high society.  It is a safe haven for those who never allow themselves the thought that theatre is dead, whose lives revolve around the stage and its performers.  Inside Broadway certainly made a good case for why theatre is something to be saved, and is worth fighting for.