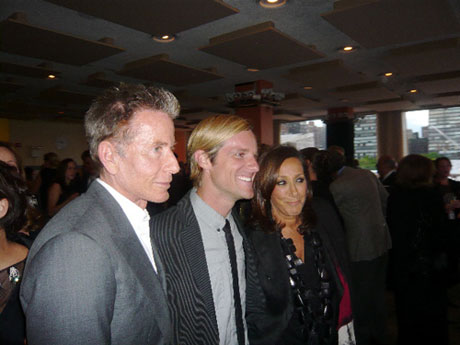 It was a benevolent affair this past Tuesday evening aimed to herald attention to human trafficking, war crimes and the corrupt mistreatment of young children. The 'Cause for Gulu,' underwritten by Egyptian billionaire (yes they still exist…) Shafik Gabr of ARTOC bought forth a vehement crowd that was moved and evoked to consideration and aplomb. Such were the affairs of the cream of society and the emissaries who sought to bring attention and validation to young boys and girls.
As notable guests roamed the triply checked security fete (from Alec Baldwin, Nicholas Cage, Donna Karan, Calvin Klein, Elaeanora Kennedy) I was fortunate to encounter one of the principal emissaries – film maker Jason Russell (invinsiblechildren.com) who described the horrific wretchedness imposed on innocent lives in one of the longest running civil wars in Africa- that of Uganda (20 years now). He spoke of triumph, of young children literally been taken to hell and back, forced to kill others and who having now coming under the auspices of Gulu's philanthropic cause were now being redeemed and transposed to joyous humanity and vibrant hope and love of life. One could certainly surmise the triumph also extended to the visionary and brave Mr. Russell as well…
An extended walk around the room, the uber celebrities, madams, socialites, and assorted philanthropists bought this writer to the stark realization of what was really at stake when he came along one of the many children's paintings up for auction.
As quoted, next to the painting, "My name is Denis Onen. I like painting flowers and trees. I have enjoyed the workshop so much, and I am in the sixth grade, and one day I want to be a teacher like Ross," (Ross Bleckner being one of the artist emissaries being championed and awarded that evening at the UN)- and then it continues; "When I was in the IRA, the rebels would be our friends when we were doing what they wanted. They killed many girls they abducted saying they were witches."
Indeed it was surreal to look at this young boy's green and mauve colored redemption, but one is inclined to believe that once the human spirit has been so ravaged it always seeks re-validation in self and affirmation amongst others.
With roaming garcons. heartfelt banter and the splurge of the best of the 1980's and 70's the patrons gathered outside to seek warmth and revelry in each other and to pay homage and umbrage to a wondrous collective in a far far away land whom had suddenly lent triumph and new found will to change things.
Amazing what a child can do…