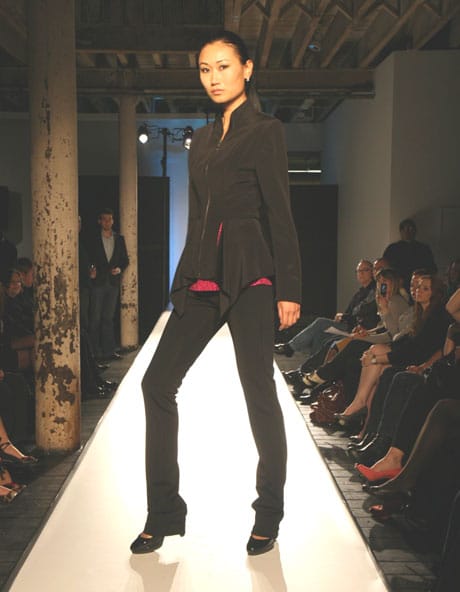 Overheard at Margi Kent's runway show: "Oh my god, that is so 1995." "No, it's worse. It's so 2001."
Kent knows how to throw a runway show. If only the line itself was as much fun, but that's not to say there wasn't any fun…
I arrived at Chelsea's Hosfelt Gallery a bit after 7. Located way out between 10th and 11th Ave (and yes, there is an 11th Ave. I forgot about it too.), the Hosfelt managed to stand out from its somewhat dilapidated surroundings.
Inside, the crowd of mostly women and gay men mingled quietly at first, as if unsure what to expect. The Mexican-inspired hors d'oeuvres (ceviche, beef empanadas, mushroom quesadillas) were divine, and the cocktails were nearly as enjoyable as the three gentlemen mixing them.
I'm mostly indifferent to how people dress at these things so long as they look good. Dark jeans and black jacket? Spiky heels, men's suit jacket, floral mini skirt? Cocktail dress? Fine, fine, fine. What really makes me want to run for the door screaming is the girls in too tight, too shiny, too short dresses that look straight out of somebody's over-accessorized sorority semi-formal. You know the type, they travel in packs. There's usually at least one who looks comfortable with her surroundings, but the rest reveal their probably-grew-up-in-the-Midwest unease by laughing too loudly and trying to push into the photographer's shots all night. Yikes.
Luckily, the irritating girl groups were in the minority on Wednesday with most in attendance carrying themselves with style and poise. I took my second-row seat for show at 8:30 and watched the runway light up. As the show went on, my reaction was… hey, wait a minute. I had seen several of her pieces already on the web, and apparently profession photography can do wonders. The biggest problem seemed not to be the design, but the fabric choices. Glittery gold capris made of… is that some kind of spandex blend? Scary looking ripped clubbing shirt in front, sweater back?? Rouched black Lycra pants??? I'm guessing on the Lycra, of course, but when you have to play the Lycra guessing game, nobody wins.
Of course, there were a few things I just had to have. A simple belted grey dress would be perfect for the office so long as that belted look hangs in a little longer. Damn, this is hard work, looking super glam. I do have one genuinely positive comment on the show- I loved the choice of models. It's rare you get to see a show with two Asian models AND two black models, and rarer still when one is a dead ringer for a younger Michelle Obama.
So to summarize, let me address Ms. Kent directly: "You put on a mean event, but please use better fabrics next time. You had some good ideas, and you should know that just making them look nice in photos is not enough to make anyone want to actually take them home. You can do better. Or, as your faux-bama model might say, yes you can ."
I'll be looking out for Margi KENT next time, after all this girl has got attitude and I'm betting she'll iron out the kinks and really wow us next time..