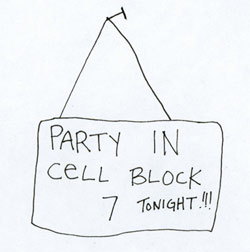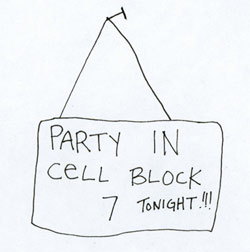 And that's not just on Weekends…
'If you ever were a criminal in Texas' and this sounds like the initial line of a country song lyric, and then got sentenced to a local County jail to do a stint of time, to re-evaluate your priorities, get in touch with your moral conscience and ultimately get centered and grounded in moral civility and right with G-d…FUHGETABUH-DIT!
At somewhat rural
Montague County Jail in Montague, Texas you could pop pills, deal drugs, make homemade weapons, rearrange the furniture…bring in your own furniture, take out the iron bars, have hot sex with your female jailers, and…basically never have to leave. Why would you want to?
Drop your plans for Vegas if your intentions of adventure necessitate hot, unadulterated fun…
You should have gone to Jail in Texas. That's where the fun was, silly! Amid a gross rearrangement of moral infrastructure of George Bush' reign over the world and America during the last eight years comes a new revelation of Jailhouse culture 'Deep in the Heart of Texas'…George's home base of Neo-Con conservative ideology. While we were seriously perfecting torture games and techniques for the Iraqis
in Abu Graib, we were in a lot more playful mood down south not bothering to enforce and impose any discomforts on any of our own Ameriwhacki inmates
. Why would we want to do that, you might ask? We are a Nation of Believers….
Believers in P-a-r-t-y…and the pursuit of wild and exciting, demonic abandon in at least one of our Jails…
——–Next time you get sentenced don't forget your Party Hat…