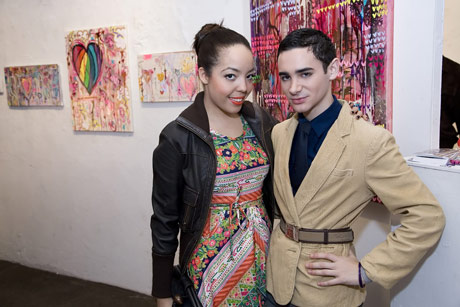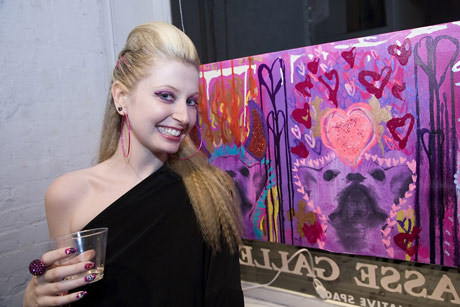 Blinking hearts in a window bringing Amsterdam's red-light district to mind, and a modern day Warhol of a pooch fit to ride in Paris Hilton's luxury handbag clearly signaled that Amanda Dolan's "Heart Attack" exhibit opening at Ward-Nasse Gallery was open for business.
The gallery was sardine canned packed with supporters: a fun gathering
of artists, semi-celebrities, and open bar scavengers. For the name-dropping, famed guests included stylist Adrien Field, fashion designer Sylvia Heisel, Keame Jackson of the Apprentice, actress and model Jessica Caban, and many more.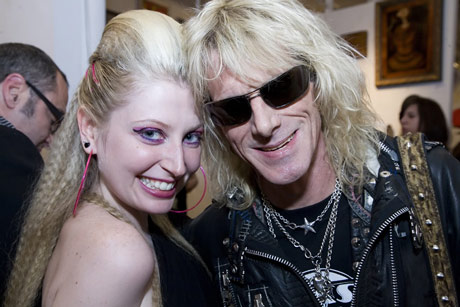 Jimmy of Trash and Vaudeville: "When I walked in, I felt the energy so strong I had to put my sunglasses on. Iggy Pop, Valley of the Dolls and the Rolling Stones hit me. Wham. A lot of pink- a little dirty.
The energy is sincere. The crowd rocks. It's not overly pretensions; it's a perfect mix and that's just the straight up truth."
Within the first hour, miniature heart stickers had been stuck to title tags signaling that nearly half of the pieces had been sold.
Perusing the pieces with pink frosted cupcakes served on a cheetah print napkins in one hand and endless cups of Prosecco in the other, one couldn't help but love this 80s flashback. With titles like
Drippy, Purple Rain, and Unicorn Romp at an affordable price range of $75- $600, it was clearly a delightful affair and diversion from the recession.
Lawyer Brianna Oppenheimer: "Art like this gives hope, reminds you of a better time and a brighter future." Stock Analyst Seaver Wang agreed, "It's fairly affordable. There isn't pressure or backlash and it's attainable art, which is something you won't find at large fairs like the Armory."
The song list belted out favorites like Pat Benetar, Madonna, and Depesche Mode. One couldn't help but smile at the layers of iconic imagery, pop star idols, drippy hearts and sparkles. It is mood art: uplifting, emotionally freeing, and brilliantly optimistic.
Marty E. from the Dirty Peals commented, "As a drummer and a musician, her work is impressive because it incorporates music and pop culture.
Other than that I'm just drinkin'"
Towards the end of the evening, I had the opportunity to meet Amanda. Blonde crimped hair with hot pink streaks, glittered eyeliner, oversized metallic pink hoops and bedazzled nails (one even had her boyfriend's name), she is a true embodiment of her work.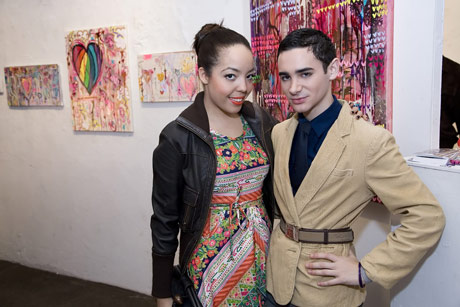 Holding pink tulips and adorned in an off the shoulder Norma Kamali, Betsey Johnson black tights with raised hearts and bright pink Marc Jacob's flats, she flashed a contagious smile full of hope for a better and brighter future- or certainly at least one coated with pixie stick sugar and sprinkles.
Amanda Dolan "Heart Attack"
Ward-Nasse Gallery
178 Prince Street