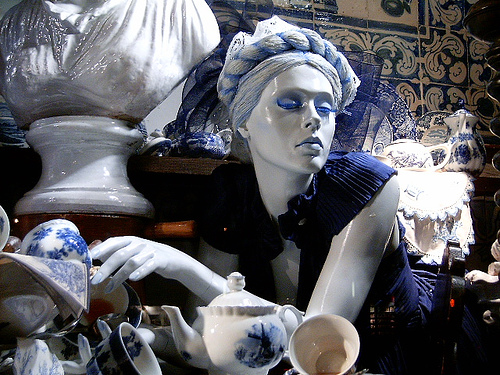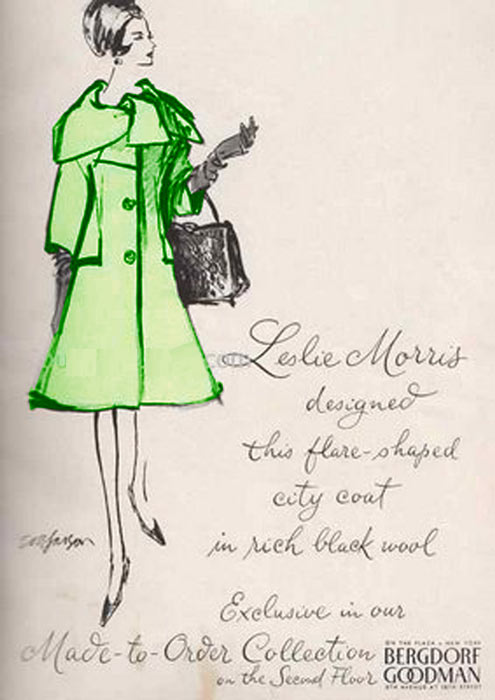 For most, 5th Avenue is the epitome of New York glitz and glamour. For me, it is the perfect catalyst for a panic attack. I frequently find myself hyperventilating while fighting through idle mobs of tourists, running away from disoriented families who, for some reason, feel that I am the appropriate person to ask for directions to Central Park or Abercrombie & Fitch and dodging camera flashes as women try to achieve a pose of forced nonchalance under the Tiffany's sign. But last Saturday, I embraced the uptown avenue's frenetic pulse because I was on a mission: a shopping mission.
As Scallywag's resident shopping expert, my task was to successfully infiltrate 5th Ave.'s fashion fortresses; I was to try on the most outrageous gowns, demand the sales teams' undivided attention and uncover what the ultimate elitist shopping experience really entails.
With the big boutiques, it's all the same; at Chanel, Dior, and Gucci, the setup is wildly appropriate and ironic all at once. The first floors cater to the faux-shopper; they're filled with signature novelties: classic handbags, silk scarves, perfumes and key chains which obvious tourists can take home as a souvenir of their New York vacation.  With the exception of Dior, the second floor contains the shoe salon, tailored not to the label hungry visitor, but to the Midtown darling who hopes to add some status to her otherwise Steve Madden infested shoe collection. And finally, the third floor is the heart of the boutique: ready-to-wear. Reserved for the serious shopper, here lie gowns, suits, and cocktail dresses with price tags that would cause even a pre-2008 Berni Madoff mistress to wince. This is where the magic happens.
For no particular reason, I decided to commence my operation at Dior. Armed with an aggressive fur coat and a brilliantly false back-story, this debutant-for-a-day marched through the front door, winked at the smartly dressed security guard and strutted up the stairs to the ready-to-wear floor. After seconds of browsing, the sales woman noticed my obnoxious outerwear.
"Hello Ms.! Welcome to Christian Dior! May I help you?"
"Most definitely. I'm attending a spring wedding in Rome" (lie) "and I need gown, a cocktail dress, and an overall exciting wardrobe experience."
This grabbed everyone's attention. The manager and sales woman swooned over me, served up a bottle of Evian and placed silk gowns, orange ostrich feather adorned cocktail dresses and opulent jewelry in my dressing room. How marvelous!
After rejecting at least 10 hideous options, I found the winner: a robin's egg blue "cha-cha" gown from the Cruise Collection. Floating out of the dressing room, I sharply requested shoes and accessories while secretly reveling in absolute retail bliss. What could possibly enhance this moment? A runway, obviously.
"Could we create runway atmosphere here? I'd like to see how the gown moves." A ridiculous request? Apparently not.
Thinking they would make a sale and possibly gain a giddy client with unlimited funds, my minions immediately complied and re-arranged the boutique so I could have my desired catwalk.  I stomped. I posed. I conquered and somehow managed to slip out of the store without spending a dime. Needless to say, my newfound ladies in waiting were not overjoyed.
Gucci provided even more of a thrill. Again, I wove my way through the maze of tourists and trinkets that was the first floor, trekked up only God knows how many flights of stairs and finally reached the exclusive ready-to-wear level.
"Well that was a hike!" I breathlessly complained salesman guarding my entrance. He had no words and closely followed my fur as I browsed. Able to hear him pacing behind me, I spun around spat out the same lie I had laid upon my friends at Dior. He was onboard.
Flippantly demanding or berating each ensemble in my path, fellow shoppers stared, snarled and huffed with envy and disgust but really, isn't that the point?
I was escorted to my dressing room. Wait, no. I'm sorry. My two chamber dressing suite that separated me from the pedestrian Park-Ave-penthouse residents who only planned on buying one over-priced ensemble. Highly concerned about my hydration, my shopping servant offered me a bottle of Perrier (judging by the caliber of water, this was undoubtedly the superior boutique) and as I waited for my sparkling beverage, I slipped on a sultry citrus cocktail number, twirled a bit and vogued in all four mirrors to the tunes of The New Young Pony Club and Yelle.
My shopping guide zipped my gowns, complimented my figure in clingy mini dresses ("Are you sure this doesn't make me look fat?") and, best of all, suggested that we do a "photo shoot" so I could really understand how good I looked. Was he aching for a sale? Yes, but that didn't deter me from accepting the royal treatment. And after placing a leopard-print gown on hold, I again slipped out of the store unscathed.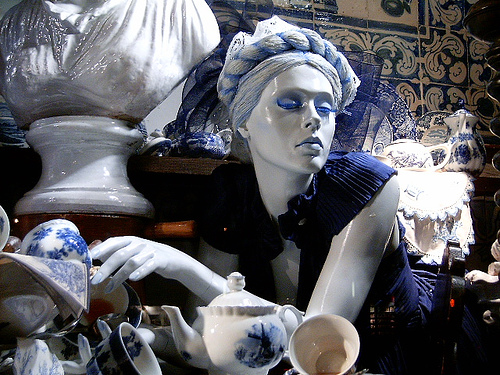 The final stop on my mission was an obvious choice: a Mecca for all who shop, Bergdorf Goodman. Escalating directly to the pricey 4th floor, I attacked yet another unsuspecting salesman with my outlandish story. Giggling about Italian bachelors and Rome's smoky cafés, we perused the racks of Fendi, Balenciaga and J. Mendel.
Like magic, sand-colored gowns, chinchilla boleros and Louboutin shoes swiftly found their way into my dressing room and I was not only offered Perrier, but a plate of chocolate truffles worthy of Per Se.
"Would you like some water?'
"She'd probably prefer Cristal!"
"We have that."
Why I declined the champagne, no one knows. Maybe I was too intoxicated by the relentless comments about my "Barbie Doll figure", my ability to carry an evening gown better than Agnes Deyn, or my "adoooorrable hair," (I had been walking around in the snow all day and in my mind bared an uncanny resemblance to a drowned rat).
It was ecstasy. I could do no wrong. Nothing looked less than phenomenal, and as far as I could tell, these people thought I was the most exquisite, charming girl in all of Manhattan.
But then my competition arrived. With a bite-sized white dog poking its wet nose out of her Chanel bag, a woman who I later learned was a "special" client vomited her black Amex all over my fantasy world. The posse of foaming couture pushers who just a moment ago, were singing my praises, rushed to her aid as she desperately searched for a new mink coat. The one she was wearing looked fine to me. Never mind that her mutt sprung out of her bag and took off through the fur salon like it was a Petco.
The sales team chuckled at the pup and, of course, complimented the cut of her soon-to-be new coat. I wonder how funny the dog would have been if this mystery client had just been a lost tourist who strayed from her post on the first floor….