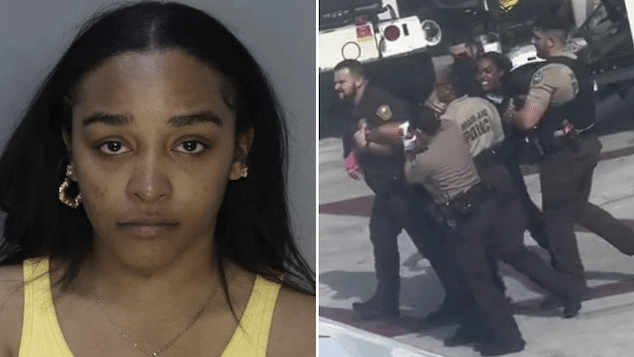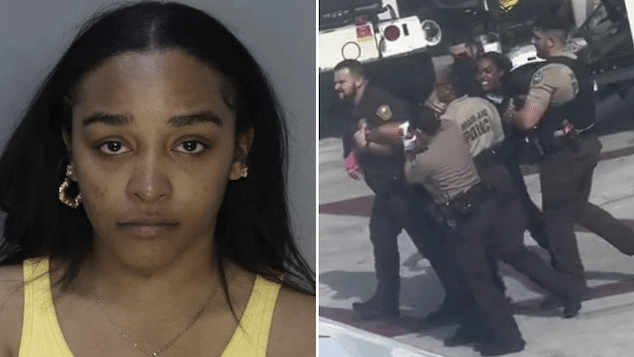 Simone Bryna Kim Frontier Airlines passenger thrown off flight following foul mouthed confrontation with fellow passenger as air rage continues unimpeded over America's skies. 
And it continues. Again. A female Frontier Airlines passenger was carried off a recent flight at Miami International Airport after allegedly getting into a foul mouthed brawl with another passenger while boarding.
Simone Bryna Kim, 24, of Killeen, Texas, was arrested on Tuesday afternoon after Miami Dade cops were forced to carry the belligerent passenger off the plane.
The plane was getting ready to head to Philadelphia when Kim and another passenger became embroiled in a discussion 'confrontation' in the aisle. 
'I'm whatever you want,' Kim can be heard telling the man. 'I'll beat you the f**k up. What you trying to be on?'
Brace yourselves kids.
Usa.Floryda
Według raportu Departamentu Policji Miami-Dade z aresztowania, 24-letnia Simone Bryna Kim z Killeen spowodowała zamieszanie na pokładzie samolotu Frontier Airlines Flight 2426, lecącego do Filadelfii, i odmówiła prośbie załogi o opuszczenie samolotu. pic.twitter.com/5WsiAGeNej

— DewastacjaTicTok (@krus_vs_insta) March 23, 2023
Delicious cluster f**k
Continued Kim, 'One thing, I'm going to rock your s**t,' she said as she leaned around a woman who was trying to calm the situation to yell at the man. 'If you're real, show me what's up. I'm going to beat you the f**k up on this s**t, I guarantee you, I guarantee you.' 
A crew member is seen in captured video asking Kim to leave, only to refuse, causing the police to respond. When she refused again, law enforcement asked everyone to get off the plane, according to Local 10 News. 
When Kim was informed she was under arrest, she started to 'push [and] pull' away from officers and scratched and bit some of them. She was later carried off the plane and taken to jail. 
Video from inside the airplane show a group of officers escorting her off the flight. By the time they reach the end of the staircase, four officers had to carry her to the squad car. 
Because who doesn't need a fantastic brawl story on a plane to recount amongst friends?
Officers attempted to put leg restraints on the belligerent passenger only for Kim (remember kids, fantastic brawl is the operative expression) began kicking when they did. She also nearly knocked an officer down the stairs during her struggles. 
'Oh boy, they're gonna love this story at the office, I keep thinking to myself!@' Come closer, I'll kick ya again, ya hear?!!@'
Define flying etiquette over America's violent skies? 
Following her arrest, our collective hero was booked into the Turner Guilford Knight Correctional Center and later bonded out. 
Kim faces two felonies for battery on a police officer, one felony for resisting an officer with violence, and three misdemeanors for assaulting an officer, and another misdemeanor for trespassing. 
The Frontier passenger's histrionics is just one of many seen across US airports since the post-pandemic travel boom. 
Earlier this month, Francisco Severo Torres, 33, of Massachusetts, was charged with one count of interference and attempted interference with flight crew members after he attempted to stab a crew member with a broken wooden spoon and tampering with an emergency exit. 
Last month, Tiffany Miles, 36, of Washington DC, grew angry after American Airlines flight crews took a long time serving her alcoholic beverage. It was originally reported that she had attempted to breach the cockpit, forcing the flight to make an emergency landing. Miles later claimed that she was getting up to use the restroom. 
She was charged with a misdemeanor of airport obstruction, which carries a jail sentence of 20 years, but it was later dropped. 
In 2022 there were more than 2,300 reports of unruly passenger behavior, according to FAA statistics. Of those,  823 of those cases were so severe that they led to investigations, with 80 cases being referred to the FBI for criminal review.