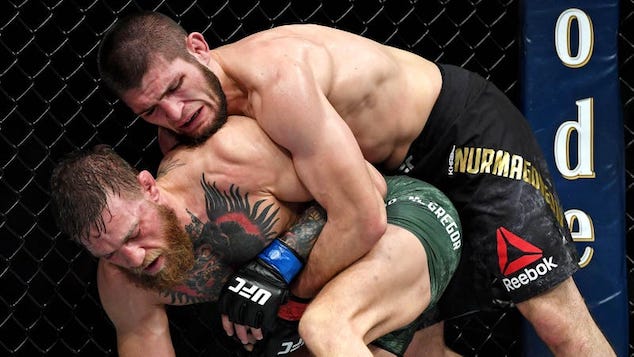 Conor McGregor UFC comeback: Khabib Nurmagomedov manager mocks ultimate fighter's return to the Octagon and demands for rematch.
In just under 2 weeks, Conor McGregor will make his long awaited return to fighting in the octagon. On the 18th of January in the T-Mobile arena, Las Vegas, McGregor headlines UFC 246 in a fight against Donald "Cowboy" Cerrone in a welterweight bout.  
Having lost his fight against Khabib Nurmagomedov in late 2018, Conor's last win in the UFC dates all the way back to 2016. A win against Cowboy Cerrone would raise the question of a possible rematch, but Khabib's team doesn't think he is deserving of another shot at the belt. On the day of the fight against Cerrone, it will been 1,162 days since Conor has last one a UFC fight.
Khabib's manager Ali Andelaziz told TMZ this week, in response to Dana White (the UFC president) mentioning Conor and Khabib, "he has to make people care about Conor and by mentioning Khabib's name, he is making Conor more relevant".
Ali goes on to express "It's OK, he promotes, he can do whatever… Khabib has a plan, Dana has a plan. Sometimes we'll get upset, sometimes we'll agree, but business moves on.
"But Conor's not on our radar. He might lose to 'Cowboy,' as far as I understand. I think he might lose."
Can former great make UFC comeback?
Whilst Conor may not be automatically lined up for a rematch in the event of a win over Cerrone, Conor is in fact the official step-in backup for the Khabib vs Tony Furgeson fight, which is arranged for mid-April.
The Khabib vs Tony Furgeson matchup is a long-awaited one for fans, as they have had several plans for this fight in which both have pulled out at some point. In fact, this will be the fifth time that the fight has been scheduled. The skepticism that both fighters will actually make the fight in full fitness led Dana White to put Conor as the official backup in case one of them drops out.
This could lead to a scenario in which Conor gets his desired rematch against Khabib, but potentially at the last minute in which Khabib hasn't had the time to prepare for it. The odds surrounding Conor's upcoming fight(s) will be extremely interesting due to this fact, which might be aided by a guide. Whatever happens though, it's clear that Khabib's team are not happy about the idea of Conor getting such an easy way into a rematch.
Khabib's team have recently called Conor's team liars. Abdelaziz was outspoken once again to TMZ as he stated that Conor's team suggested that Conor had never been in better shape (for the fight against Khabib), and yet after the fight upon losing, stated that Conor had a horrible camp and that "his foot was like a balloon").
This come about after Conor released an image of himself where he looks larger and stronger than his previous self. Abdelaziz was referencing that his team are liars once again, suggesting his picture doesn't impress and even referred to him looking like a blown-out balloon".