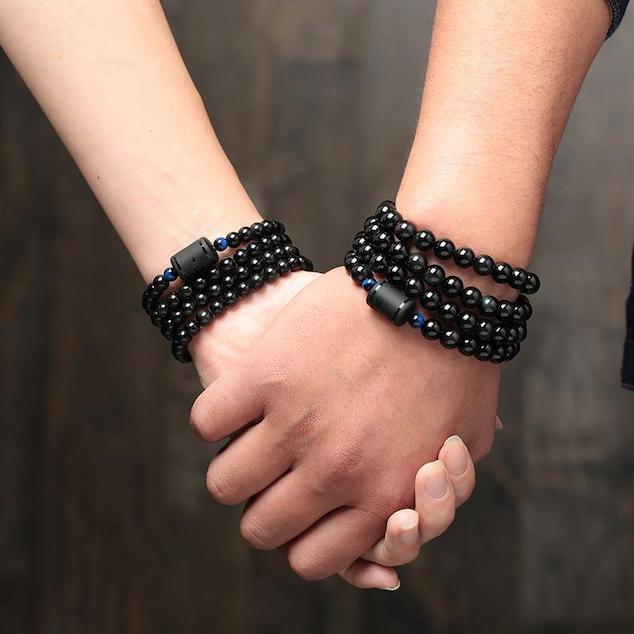 Phoenix and Dragon bracelets: How an ancient Chinese tradition continues to bestow the ultimate Yin and Yang of marriage. Symbols of eternal love and success, prosperity and blessings explained.
1. Dragons and phoenixes are auspicious, love is harder than gold
Chinese folklore deems the icon of Dragon and Phoenix representing auspiciousness and nobility. The symbols are indispensable for the protection of this pair of mystic beasts. The combination of the celestial animals complements each other's expectations of a happy marriage. The symbols represent the perfect couple in Feng Shui and that of everlasting love.
The pattern which continues to be used since ancient times, bestows a couple's intent to stay committed upon marriage. In Guangdong, where traditional wedding customs prevail, the pronunciation of the word "Chengxiang" in Cantonese is similar to "Qingchang", which shows people's infinite longing for love.
2. Family Happiness inherited
According to the tradition, the bracelets are generally purchased by the parents of the new couple and given to the bride during the tea ceremony, indicating the welcoming of new family members. The bride wore the in-law's dragon and phoenix custom name bracelets, which was the husband's father and mother's approval and blessing. The jewelry bands that the parents give to their daughters, in addition to representing deep affection and blessings, are also part of her dowry.
These gold birthstone necklaces are used as the daughter's private house money in case of emergency, and prayer for the daughter's prosperity life. Two pairs of infinity bracelets connecting two families, closely linked ever since.
3. Symbolize a happy marriage
The band also retains symbolism for the 'rich blessings' it bestows. The match of dragons and phoenixes, the love of elders, and the promise of husband and wife of living a common worthy life.
4.The dragon and phoenix bracelets must match the dragon and phoenix gown
If you wear a dragon and phoenix gown, tradition demands it match with a dragon and phoenix bracelet. Meaning: Traditionally, the bride's skirt gown is mostly decorated with gold wares. Parents of both parties will give the bride a pair of dragon and phoenix bracelets, as well as gifts from elders. Ritual also demands that sleeves of the dragon and phoenix gown should not be too long, with cuffs no less than 3 inches away from the wrist. Such are the lores of ancient Chinese rituals that continue to be followed.