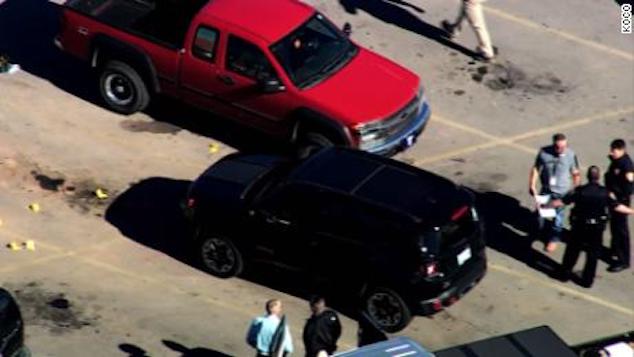 Duncan Oklahoma Walmart shooting leads to three dead including gunman, Monday morning. 
Three people have been killed — including the shooter — when gunfire erupted at a Walmart in Oklahoma, Monday morning.
The shooting occurred just before 10 a.m. at a store in Duncan, about 89 miles south of Oklahoma City, KOKH reports.
The suspect initially appeared to be at large before it was revealed the gunman was killed during the shooting The Duncan Banner reported.
Multiple witnesses said the gunman shot two people in a vehicle and a civilian with a gun confronted him, causing the gunman to turn the gun on himself.
Witness Aaron Helton told KOCO of having heard nine gunshots.
Duncan Police Chief Danny Ford told news agents that all three fatalities occurred outside the store near a vehicle.
Neither the gunman nor the victims have been identified.
Police in a press release said one female and 1 male were deceased in the car along with one male outside of the car. A handgun was found on scene.
Nearby schools were placed on lockdown as authorities investigated the fatal shooting, the newspaper said.
The incident comes after 22 people were killed in August at another Walmart in El Paso, Texas, in one of the deadliest mass shootings in US history.
Monday morning's shooting is the 371st mass shooting of 2019.