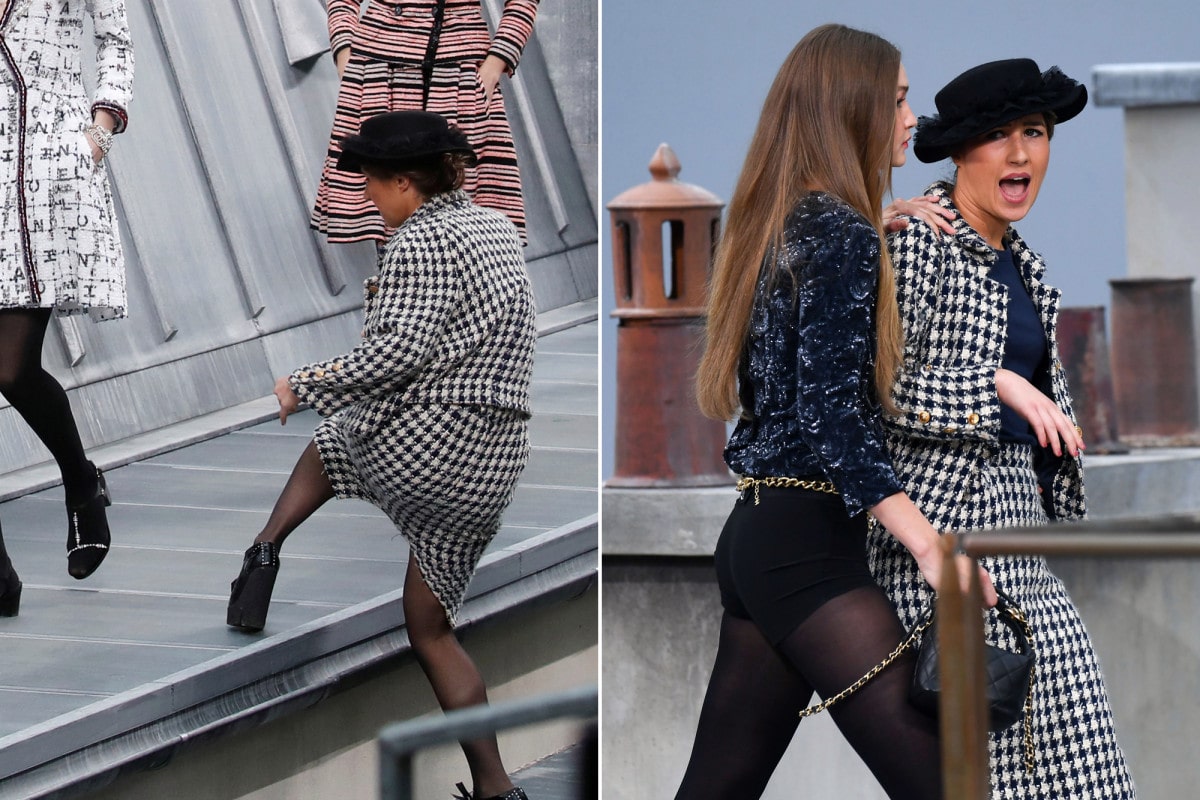 Marie Benoliel Gigi Hadid, Chanel show failed love affair
Marie Benoliel Gigi Hadid failed love affair: French comedian

Marie S'Infiltre

, kicked off Paris Chanel Runway show by supermodel during 'strong words' of discouragement. 
If only (supermodel) looks could kill.
A 'fashion runway crasher' at Chanel's spring 2020 closing presentation Tuesday morning found herself receiving the surprise of a lifetime after being escorted off stage by US supermodel, Gigi Hadid.
Dressed in a black and white tweed outfit topped with a black hat, the spectator, since identified as Marie Benoliel, 28, best known as Marie S'Infiltre, climbed onto the set, which was built to look like Paris rooftops, as models took their finale walk.
Show-goers and security were stunned as the crasher made her way to the end of the runway only for the 'wannabe model' finding herself confronted by supermodel Gigi Hadid.
'Over my dead body bixch….!!'
Hadid, 24, who was posing as part of the show's finale in front of the photo pit, appeared to speak (do you suppose bixch !!) to the crasher sternly and then, after placing a hand on her shoulder, escorted her off the runway.
What could fashion police's new patrol guard have said to the budding Chanel Runway models star? 'Over my dead body!' or 'Over your dead body!' Or how about, 'do you realize how much my daddy had to spend to turn me into a supermodel only for you to waltz in here for free?!'
In a statement released five hours after the show, Chanel said: 'This person is a comedian known for this type of prank. She had crashed another runway recently. Her presence on the catwalk was not planned. Security guards simply led her to the exit at the end of the show.'
A regard of Benoliel's Youtube platform reveals the French comedian with over 228,000 YouTube subscribers (and rising) & 206,000 (and rising) followers on Instagram. Benoliel has a one-woman show on now at the Comédie des Champs-Elysées theatre in Paris. It remains unclear if Hadid has been invited to perform a skit with Benoliel on stage.