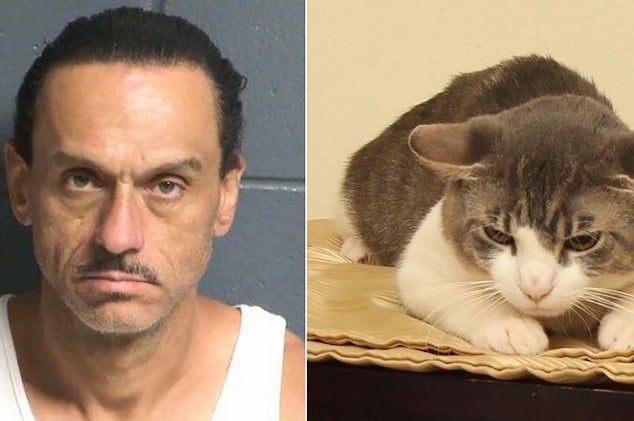 Aaron Spaulding, Las Cruces, New Mexico man arrested after choking cat and feeding it meth following assault of girlfriend. 
Also making it on the most hated on the internet is New Mexico man, Aaron Spaulding who was arrested for allegedly choking his cat and feeding it methamphetamine, officials said on Monday.
The take it or leave it (but mostly abuse it) pet owner was initially arrested on June 4 after cops were called to the home to investigate claims that he assaulted his girlfriend, according to a Facebook statement released by the Las Cruces Police Department.
Cops said Spaulding was accused of abusing the short-haired cat 'by squeezing it until it cried out.'
But there's more.
The 39 year old man is also allegedly punched his girlfriend multiple times and stole her cellphone following a 'disagreement.' 
"Police learned that a verbal argument turned physical, and Spaulding allegedly punched her multiple times and took away her cell phone,' police indicated in their statement on Facebook.
It was while investigating the girlfriend's complaint that cops found out about the man's cat being 'choked'. 
The animal was sent sent to a veterinarian for testing after cops found out Spaulding may have also fed his cat methamphetamines during the course of the animal assault. 
The cat was given a blood test, which came back positive for meth. 
You win a magic prize!
The discovery led cops to upgrade one of Spaulding's initial animal cruelty charges to a felony count.
Thank you!
Spaulding had already been charged with false imprisonment, battery against a household member, interference with communication and two counts of animal cruelty. Indeed. 
The abused animal has since been released into a "caring home.'
Spaulding was released after making bond 3 weeks on June 24- following his arrest on June 4th.