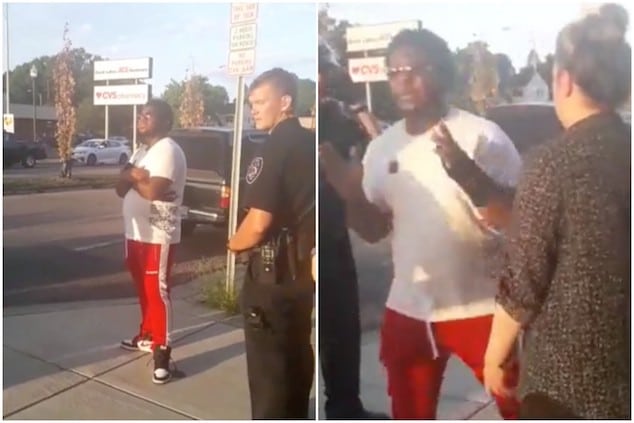 Internal probe launched after black man Devin Myers is stopped and questioned by Royal Oak, Michigan police after white woman says he looked suspiciously at her. 
Disconcert has come to the fore after video revealed four police officers stopping a 20-year-old black man on a Michigan street after a white woman called 911 saying he had 'looked suspiciously' at her. 
Devin Myers was stopped and questioned by Royal Oak Police on Tuesday when he was trying to go into a vegetarian restaurant.
A Facebook Live video shot by a bystander showed Myers surrounded by at least four officers on the sidewalk just outside the restaurant.
Kimiko Adolph who filmed the video claimed a white woman calling cops after Myers looked at her while he was parking his car.  
'This young man is stopped because a Caucasian lady said that he looked at her suspiciously and he has been pulled over walking going to eat by two police officers for suspicion of being black,' the woman said in the video. 
She repeatedly said the woman who had dialed 911 was sitting in her white car across the street watching the incident unfold. 
Myers, who remained calm while questioned by cops is heard at one point on video apologizing to the officers for wasting their time. 
20 year-old Devin Myers was minding his business & going to get something to eat when he was stopped by multiple Royal Oak police officers. The reason for the stop? A white woman called them to complain that he was "looking suspiciously" at her. Appalling.pic.twitter.com/pvvH09Gmaw

— Simar (@sahluwal) August 14, 2019
Kimiko Adolph: 'No, don't be black and stare.'
The two officers who initially responded said they were waiting for a supervisor to come to the scene after Myers objected to be questioned. 
Myers told all four officers that it was evident he was not a threat to the woman. 
'You pull up and you see, I'm not a threat to her. I'm not even close to her,' Myers said. 
Inn Season Cafe manager Erin Frey told officers there wasn't a problem and suggesting race was an issue. 
Myers during the 14 minute posted video at one point is heard saying, 'They need to make a warning sign for Royal Oak: 'Don't stare too long.''
Adolph who has been narrating the unfolding scene follows saying, 'No, don't be black and stare.'
Video shows Myers eventually being told he could leave the scene some 30 minutes after first being questioned by cops. 
The supervising officer told the restaurant owner that she was inferring a lot from the 911 call. 
He added that Myers should have just told the woman that he was minding his own business parking his car. 
The restaurant owner insisted that's what Myers did but the woman called police anyway.
Following the incident, Adolph told heavy as a black mother of three black sons, she was 'scared' for Myers and had gone outside to be with him and record what was happening.
'I went out with him because he was surrounded by all whites and alone,' the woman told Heavy.
None of the police officers have been identified with the department saying they are investigating the incident. 
Of note, the Detroit Metro Times reported the Inn Season Cafe – the restaurant the 'black man' had been attempting to go to prior to being stopped and questioned by police, paying for Myers' meal.