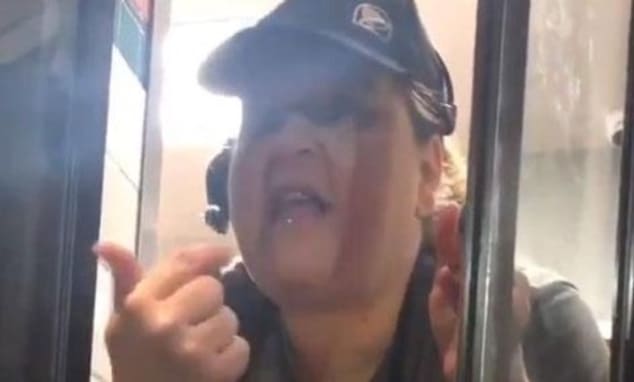 Missouri Taco Bell worker fired over Islamophobic rant as filmed by Tarek Hamdan. 
A Taco Bell employee in Missouri has been fired after a video of her spewing an anti-Muslim rant at a customer spread went viral over the weekend.
The un-named, fast-food worker, who was manning the drive-thru at in Bridgeton and was captured by customer, Tarek Hamdan on video shouting that 'Muslim motherfu–ers can suck my di–,' reported the St. Louis Post-Dispatch.
Hamden posted about the incident on Twitter, claiming he was picking up a meal after a day of fasting for Ramadan when he was told that Muslims were terrorists.
'It's not what you think and what you see in the movies, those people are monsters,' Hamdan says on the video as he picks up $50 worth of food circa Tuesday, 1am. 'Those people are disgusting. Those are the people that make the religion look bad.'
The worker, who wasn't identified, then launched into her racist tirade.
Around 1am after a busy day at work & not being able to eat from a long day of fasting for #Ramadan, I went to @tacobell to buy some food for suhoor (pre-dawn meal/breakfast) but, ended up having a 25 minute debate with this worker who insisted ALL Muslims are terrorists. #STL pic.twitter.com/ChV98eTMYl

— Tarek (@arab_lovin245) May 14, 2019
'But I'm an American, just like you,'
'Until you change my mind, all Muslim motherfu–ers can suck my di–,' she said. 'They tore down my country and killed thousands of my people, so you need to change my mind and I'm not going to cater to you, you're going to need to cater to me 'cause this is on my territory.'
'But I'm an American, just like you,' Hamdan says before the employee asks him if he thinks a woman should 'bow down' to him. Hamdan replies that he doesn't believe that, adding 'women have equal rights as men, that's what God says in the book.' 
The employee then shakes her head and says, 'that's not Muslim.'
'See, Muslim and whatever religion you're thinking Muslim is in your head is not what you believe, it's not the same belief,' Hamdan replies as the worker tells him she's being yelled at by her manager and that he needs to leave since his car is being timed.
'But hit me up on my phone, I'd love to talk to you about this,' the employee adds before she shakes her head and closes the window.
The employee was fired and the owner of the Taco Bell reached out to the man to apologize, the company told the Post-Dispatch.
'We welcome everyone in our restaurants and do not tolerate this type of behavior,' Taco Bell said in a statement. 'This is a franchise location and the team member involved no longer works for this franchisee. The franchisee has reached out to the customer to apologize.'