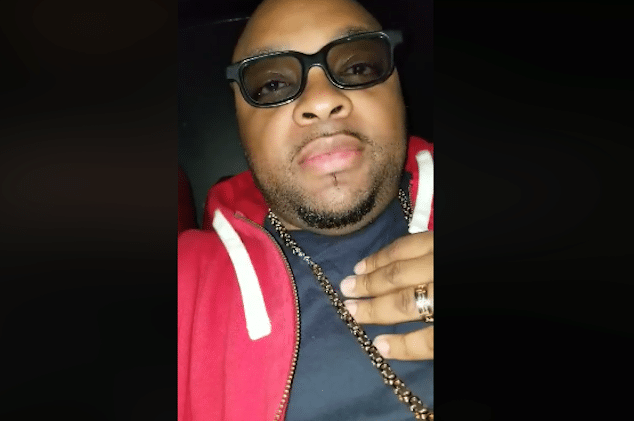 Larry Shelton a black movie goer at an Ahwatukee AMC cinema in Arizona accused outlet of racial profiling. Singled out because of the color of his skin?
A black movie goer has accused an AMC movie theater of 'racial profiling, harassment, and mistreatment' after 'incorrectly' accusing him of sneaking into a Captain Marvel screening.
On Friday night, Larry Shelton, 40, a mortgage banker in Ahwatukee, Arizona, was watching the movie at an AMC theater in Phoenix when he got up to use the restroom and re-fill his beverage. 
'I'm walking back to my seat with my cup when a manager runs up and said I entered the building through an exit door,' Shelton told via Yahoo Lifestyle. 'He was very nasty with me and told me to leave.'
Shelton told the employee he was wrong and that he should verify his suspicion on a security camera. As he continued to make his way to his seat a security guard told him to leave. Shelton refused, filming the argument for Facebook.
Larry Shelton: 'Do you know how embarrassing this is?'
Shelton recorded another video in the theater lobby (see above), where police officers were standing. 'These guys said you didn't have a ticket,' said an officer, indicating the manager who said, 'Sir, you walked in an exit door and my staff warned me they did not sell you a ticket…I am sure. Nobody scanned your ticket.'
Shelton presented his movie ticket and the manager said, 'Oh yes, this is a ticket that does look like it was purchased…but you should have shown me the ticket…you walked in [from] the exit door.'
'Do you know how embarrassing this is?' said Shelton. He asked for a refund and the manager said, 'You're not getting a refund. You violated our code of conduct by turning a flashlight on in the theater.'
While Shelton conceded that showing his ticket to the manager would have ended the misunderstanding he felt defensive. 'The exit door I supposedly snuck into was too far from the theater I was sitting in — I would have had to teleport there by the time the manager stopped me.'
The Phoenix Police Department has since said no laws were broken and could not get involved in a civil dispute.
AMC responds: 'We understand that Mr. Shelton feels he was treated with bias,'
Sheldon sent an email to AMC alleging discrimination. with the outlet responding in part, '…We deeply regret the mistake in misidentifying you…'
Told an AMC corporate spokesperson via Yahoo Lifestyle, 'AMC deeply regrets that this avoidable situation occurred. Based on our initial investigation, including interviews with the theatre staff and our outreach to the guest, this situation could have been handled differently to minimize frustration, and we've offered our sincere apologies to Mr. Shelton. Regarding what transpired, a member of the theatre team, acting on information about unauthorized access to the theatre through an exit door, approached a guest in the area, who was reentering an auditorium mid-movie. When the guest declined to show his ticket stub, the manager called for security, and when the guest again declined to show his ticket stub or leave the auditorium, the theatre called the police. Once police arrived, the guest produced his ticket.'
'We understand that Mr. Shelton feels he was treated with bias,' the spokesperson continued. 'Equality is of the utmost importance to AMC, which is why unconscious bias training is required for all AMC management associates, and we will be reinforcing that training at this theatre.'
Shelton was offered free movie passes and popcorn and drink vouchers from the company. However, he is seeking legal counsel. 'I felt very ashamed,' he says.
Black Lives Matter of Arizona are now planning on protest for Shelton, alleging 'racial profiling, harassment, and mistreatment.' Kat McKinney, president of Black Lives Matter has since maintained manager's actions were 'appalling.'
'This employee tried to intimate Larry, even when he was proved wrong,' McKinney told via Yahoo Lifestyle. 'Thankfully, we have videos to prove that racism continues to exist.' The organization asks for a national boycott of AMC Theaters. 'An apology will not stop us,' says McKinney. 'We can't lose an opportunity for change.'
Reflected Destiny Russell, 21, a (black) frequent cinema goer at Ahwatukee: "I hope that people are more aware of these kinds of incidents happening and to be aware that you or the person next to you might be receiving different treatment based on their race,