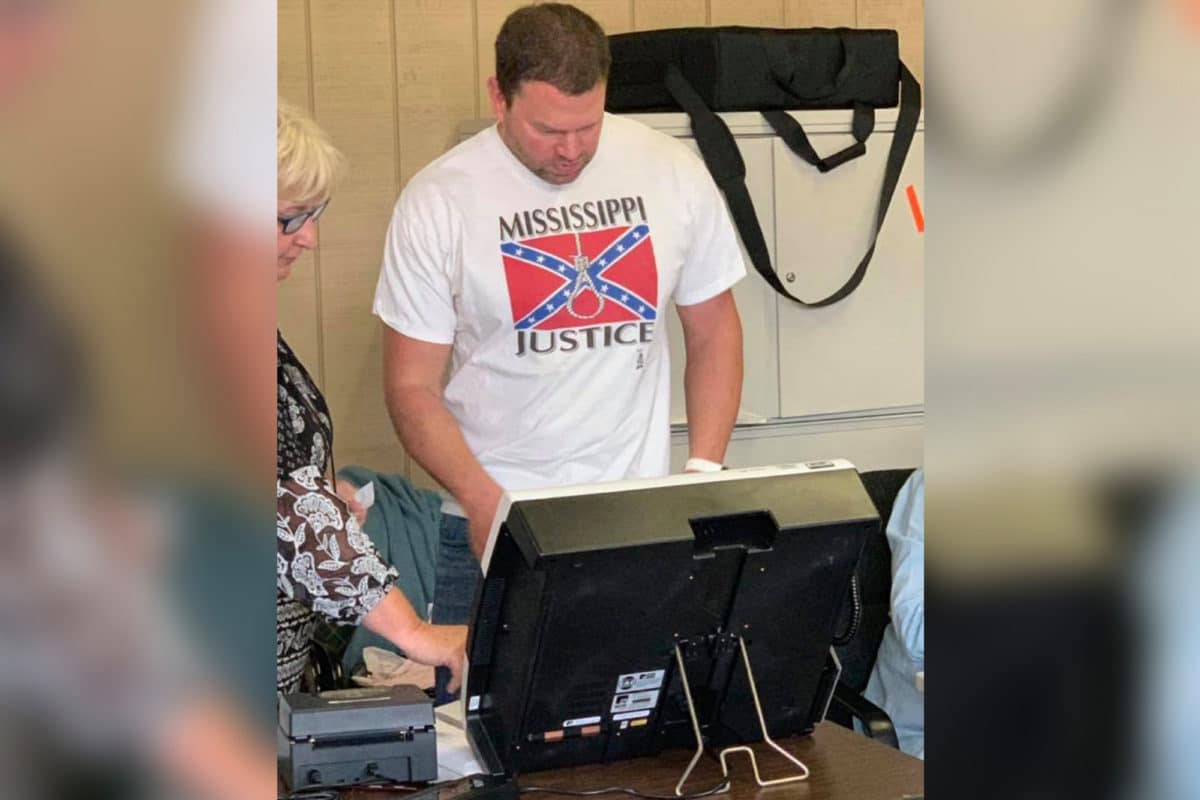 Clayton Hickey: Olive Branch, 

Mississippi hospital worker fired after wearing Confederate shirt (with noose) to polls. A heart felt lesson in political correctness. 
A Mississippi hospital worker is out of a job courtesy of a wardrobe dressing faux pas while on the way to his local election polling booths.
Clayton Hickey's ouster came after the man's employer caught wind (yes welcome to social media Clayton….)  of the employee turning up to Election Day polling booths, Tuesday- wearing a Confederate flag T-shirt with a noose and the words 'Mississippi Justice' emblazoned on the front.
Needless to say it wasn't too long before the man's appearance caused a reaction (do you suppose….?) with the Hickey's mage a viral sensation a few hours after a fellow voter took a photo of the hospital worker and decided to share the delicacy with fellow netizens.
The trending image led Hickey of being accused of being a racist ( never mind wearing a Confederate shirt with no noose image… let alone with one) and social media's new found pariah.
Hickey- a former cop (do you suppose ….?) had initially been identified as an election worker before local media outlets revealed his actual occupation.
And that's when we were all off to the races….
'Clayton Hickey needs to be fired immediately,' wrote one Twitter user in response to the offensive (charged) image. 'He cannot be trusted to provide care to ALL patients of @RegOneHealthFDN, nor should he be able to be hired by anyone else in a role that is responsible for the well-being of others.'
Hickey's employer, Regional One Health in Memphis, received countless messages on Tuesday, Wednesday and Thursday — calling for his termination (do you suppose….) before officials gave the EMT worker the sack.
Who said what one does during their private time ought to have no repercussion on their employment status? Welcome to the age of political correctness. 
'Regional One Health is committed to a safe, secure, and comfortable work environment for our patients, guests, employees, and medical staff,' the hospital said in a released statement, noting how 'all allegations of inappropriate behavior and violations of trust involving employees are reviewed and investigated.'
Continued the statement, 'We understand and appreciate the intense feelings related to this situation, but it is our duty to perform a thorough due diligence to verify the truth'.
'As of today, November 8, 2018, we have completed our investigation and what we learned led to the termination of the employee in question. Regional One Health holds employees to a high standard. We are committed to upholding our mission to provide compassionate care and exceptional services to all. This includes fostering a safe and protected work and care environment for all. Behaviors contrary to these principles are unacceptable and will not be tolerated.' Indeed…..
And then there were these additional reactions on social media that piqued this author's attention. See what you think?
Clayton Hickey, a nurse and former cop (fired for contributing to the delinquency of a minor) is the guy in the hideously racist shirt. Just another one of Trump's "Very fine people on both sides" https://t.co/wHBhha9EnB

— Sarah Wine-Thyre 🇺🇸🏳️‍🌈 (@SarahThyre) November 7, 2018
This has to be the most disgusting thing. The fact that he's a healthcare worker makes it even worse!!! Let's shut this down. #memphis #claytonhickey #retweet @shaunking @davidbanner @KimKardashian @RegOneHealthFDN pic.twitter.com/7LHX07Cb69

— AH (@alisah_xo) November 7, 2018