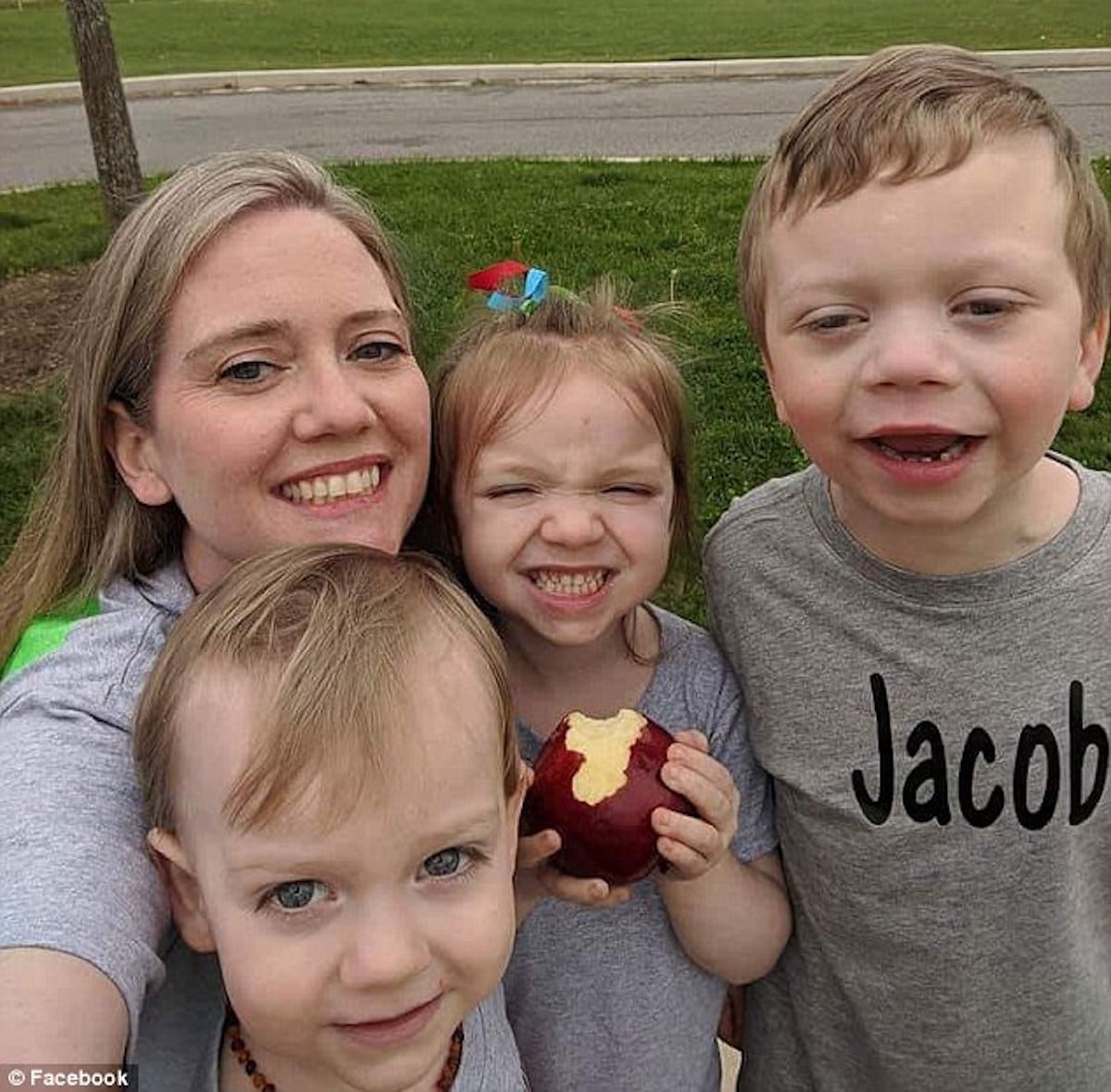 What led to a Prices Corner, Delaware husband-father, Matthew Edwards fatally shooting his wife, Julie Burton Edwards and the couple's three children then self? 
Delaware police have told of finding five people dead at a Prices Corner, Wilmington home, the likely result of a husband-father shooting dead his wife, and the couple's three children, all under the age of eight before fatally shooting himself in an apparent murder suicide.
While authorities had yet to release the names of the victims, neighbors and family identified the couple as Matthew Edwards, 42, and Julie Burton Edwards, 41.
Their three children, Jacob, six, Brinley, four, and three-year-old Paxton were also been identified.
'It is with heavy heart I come with this to you guys,' Sgt. Richard Bratz of Delaware State Police offered. 'Our thoughts and prayers are with the family during this time.'
Delaware Online reported Delaware State Police being called to the home just after 8pm for a death investigation. 
Authorities told the community that there was no concern for public safety following the shooting. 
A neighbor said a teenage boy discovered the bodies, which were all found upstairs in the two-story home.
The same neighbor told WPVI that Matthew Edwards had been 'emotional' the day before he was found dead, revealed the husband-father had just lost his job.
Edwards also told the neighbor that he was having marital problems. 
The neighbor said they consoled Edwards that day and told him to 'just worry about your kids'.  
Not immediately clear is what type of job the father held and what led to him being laid off and if the family were grappling with financial woes?
We are without words today as we mourn the loss of DEJA member Julie Burton Edwards and her family. They were very loved members of our community and to say our hearts are heavy doesn't begin to express the right emotions. More details will be… https://t.co/GmScB2UKei

— Delaware Jeep Assoc. (@DelawareJA) July 10, 2018
This neighbor lives across the street from where police say five people died from apparent gunshot wounds, including three kids under 8-years-old https://t.co/8e3omC2KE1 @CBSPhilly pic.twitter.com/X7rQN5dorJ

— Matt Petrillo (@MattPetrillo) July 10, 2018
Matthew Edwards & Julie Burton Edwards murder suicide: Neighbors said they had never noticed any problems with the family before. 
Neighbors said they had seen the five family members playing outside the home just the day before. 
'We're kind of in shock because we're really friendly with them,' Brian Covenko told NBC 10.
'We know them on a personal level, our kids hang together, we talk all the time.' 
'Little kids are innocent,' said Wilfredo Rivera, a neighbor living across the street. 'I'm hurt. I'm sad. Those babies didn't have no reason to go through something like that.'
Neighbors said they had never noticed any problems with the family before. 
Following the murder suicide, Julie's brother, William Burton, posted on Facebook that he was 'numb, heartbroken, and angry beyond belief'.
'Tonight heaven gained four angels, my sister Julie Burton Edwards, nephew Jacob, nephew Paxton, and niece Brinley,' he wrote. 
'Please pull your loved ones close, hold them tight and enjoy the moment, you don't know how many more there will be.'