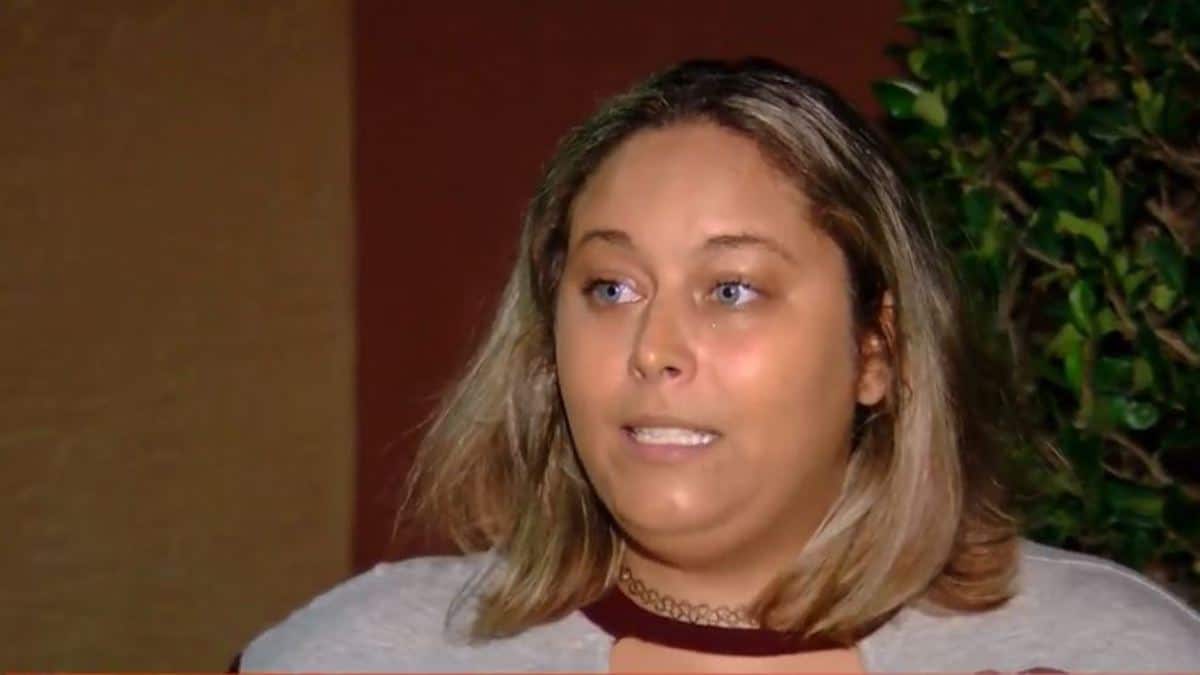 Tamlynn Yoder fired 

Palm Beach Gardens, Florida, Outback Steakhouse server receives a tip from Church but she's still out of a job. Was she stiffed? 
Tamlynn Yoder the 25 year old Palm Beach Gardens, Florida, Outback Steakhouse server who was fired after taking to Facebook to complain about not receiving a tip after orchestrating a $735 order for the Christ Fellowship Church has told of being compensated by the outlet- while still remaining out of a job.
The Palm Beach Post reported the waitress receiving an undisclosed sum of money following Thursday's sacking on Monday, greater than a customary 15-20% tip would have entailed.
Following Wednesday's shift, the server took to Facebook where she vented about not having received a tip after spending the better part of her shift that day putting together a 75 item order for the Church group.
Needless to say, the post didn't go down too well with management who were outraged after someone from the Church reached out to the Outback Steakhouse restaurant in a bid to compensate the waitress.
In turn the outlet, mortified, decided to comp the church its order while firing the employee who had transgressed company rules forbidding employees from publicly talking about customers.
'We take the order over the phone, we put the order together, take payment and then take order to the car,' Yoder told the Palm Beach Post. 'It's a lot of work just as much as serving.' 
Yoder said she made just $18 in tips during her shift since she spent most of her time on the church's order of 25 steaks, 25 chickens and 25 potatoes.
She took to Facebook to complain that Christ Fellowship had stiffed her on the tip, while declining to specifically identify which Outback Steakhouse location she worked.    
But when a friend saw her post he urged her to take it down and said he'd contact Christ Fellowship directly to see if they'd remedy the situation.
Yoder told the Post that the church reached out to her and gave her a compensation that totaled 'more than the tip'.
A church representative told Yoder that a couple of the church families came together for the donation. 
Outback has not contacted Yoder since her termination, Yoder said, but church reps are working to rectify the situation. 
The minimum wage for tipped employees in Florida is $5.23 an hour. Although opinions vary on tipping for carry-out orders, Yoder says it's a must.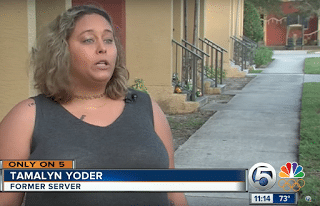 Tamlynn Yoder fired? Was she stiffed?
Shortly after learning of the situation, Christ Fellowship said their policy is to tip on carry-out orders, but that their volunteer wasn't aware of that.
The church then released this statement: 'Thank you all very much for expressing your concerns,' the church said in a statement on Facebook. 
'We are sorry to hear about this situation and our leaders have been notified about it. We value our local business partners and those who work in their establishments—many of whom are members of our church—and it is customary for us to leave a generous tip whenever we pick up a carry-out order. 
'They will be looking into what happened in this instance. We are reaching out directly to the people affected.'
Yoder said she is currently seeking a new job. 
And then there were these comments that made this author wonder, see what you think?
'A server gets tipped FOR SERVING. Handing you an order to go isn't service, it's just a purchase. No tip.'
'I will be down arrowed but this girl is a young single mother with a very sick child she has to support and she used her ENTIRE waitressing shift to get their order for them, which meant a loss of at least $100 in pay for the week, which she could not afford. SEE THINGS WITH COMPASSION…BIG COMPANY PANDERS TO A MEGACHURCH AND SCREWS OVER THE STRUGGLING WORKER!'
Tamlynn Yoder is a moron who deserved to lose her job. Most people don't tip for carry-out. I had to deal with a lot worse at a fast-casual restaurant and never got tipped unless I delivered, and even then. Restaurant servers are scummy and greedy.
'Just pay them the normal state minimum wage and eliminate tipping altogether.'
@Outback You fire Tamlynn Yoder for pointing out what cheap asses the Christ Fellowship Church in Palm Beach Gardens are? Boycotting your restaurant and asking others to do the same.
@Outback just saw the story about tamlynn yoder. Won't be coming back.