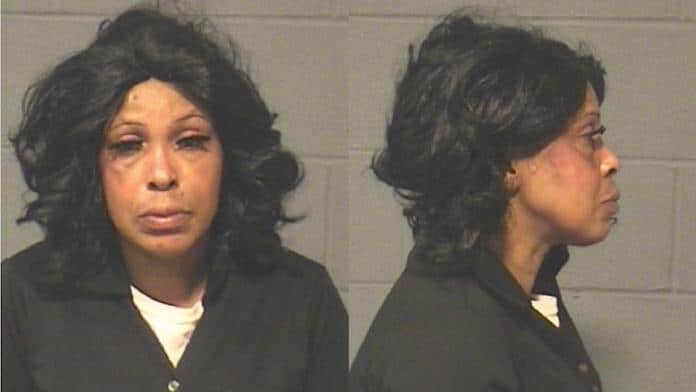 Michelle Bennett, a Hartford dog owner is charged with animal cruelty after her pit bull mix is found frozen to death chained inside a doghouse. 
Michelle Bennett a 50 year old Hartford, Connecticut woman has been charged with animal cruelty after her dog was found frozen to death on New Year's Day.
The charges against the dog owner come after her pooch was left chained inside a doghouse in the backyard of a city home on Monday reported the Hartford Courant. 
A veterinarian who examined the dog, a young male pit bull, said it was 'frozen solid' along with appearing  malnourished because it was underweight for its size. The dog had also been lying in its own feces.
'He was underweight for his body size with low body fat and low muscle density,' the vet's report read.
Hartford police said that the dog may have been outside for as long as a month before it was discovered. They said Bennett has been in jail on drug charges with the dog owner claiming she'd made arrangements for the dog's care.
The charges against Bennett come after a 'concerned' neighbor reported that a dog had been left outside during the bitter cold weather according to WVIT.
It was upon cops responded to the home that they found the deceased dog chained up inside the doghouse. 
Noted a police report, 'The dog was not provided any type of protective measures against the cold'.
Police said Bennett told them that the dog was living in the basement of the home until a pipe burst and had been placed outside.
'The dog showed signs of hypothermia,' Deputy Chief Brian Foley told WTIC on Tuesday. 'As morbid as it is, the dog was frozen solid when the officers got it.'
Bennett was being held on bail in lieu of $2,500 bail and could not be reached. It was not immediately clear if she has a lawyer.