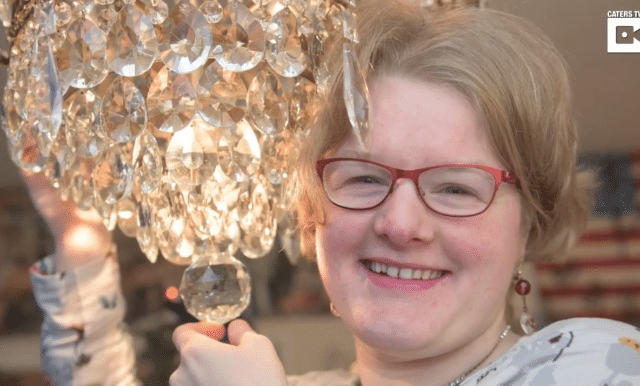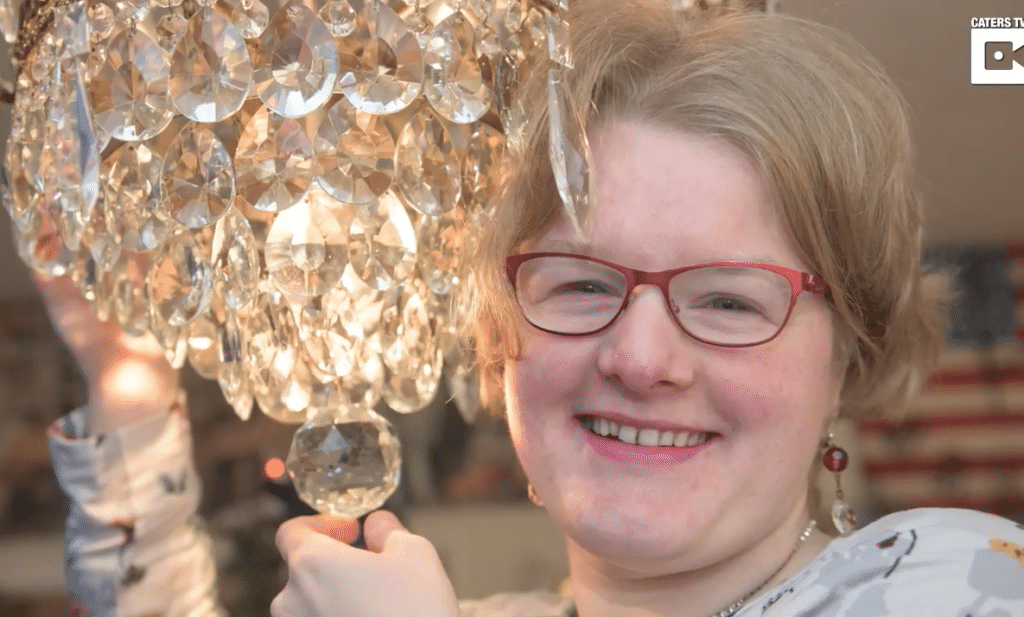 Amanda Liberty engaged to chandelier: A Leeds, UK woman is set to marry a 90 year old chandelier she bought on Ebay. The life of an objectum sexual.
Amanda Liberty a 33 year old Leeds, British woman has told of her plans to marry a chandelier she recently bought online. To be candid, the sexual object fetish aficionado confesses very much looking forward to the upcoming marriage given she is now hooked on the 'kisses and cuddles' she shares with her lighting object.
According to a report via the UK's Sun, Liberty's source of affection is a 90 year old tarnished light fitting, which she has dubbed 'Lumiere.'
Speaking of her wife-to-be via Caters News Agency, who Liberty spent over $500 shipping over from Europe in 2016, she said: "As soon as I saw Lumiere on eBay, I knew immediately that she was the one for me and it was love at first sight."
"She was based in Germany and although I knew it would be tricky to get her home, I knew I needed to find a way to make her mine."
"I couldn't stop thinking about her and how beautiful she was — she has such a beautiful shape and I could feel really amazing energy coming from her."
Leeds woman celebrates engagement to a 90-year-old chandelier https://t.co/ngBKwPb2Ur pic.twitter.com/DhIecNipxK

— Zora Suleman (@ZoraSuleman) December 5, 2017
Amanda Liberty engaged to chandelier: but still manages to snuggle up to other objects in open relationship.
The new acquisition joins 24 other chandeliers Liberty keeps at her Leeds home, whom the woman claims she was in an "open relationship" with before meeting Lumiere.
She said: "After buying the chandelier, I patiently waited for her to be imported into the UK and after six days of waiting, she was finally in my arms."
"She had been disassembled for her own safety, but once I put all her pieces together and she settled into her new home, our relationship just went from strength to strength."
"A friend of mine actually named her Lumiere because of the film "Beauty and The Beast," after the candlestick who comes alive."
"Last Valentine's Day I proposed to her, to signify our long lasting love. I hope at some point we will have a commitment ceremony — I haven't been engaged before so it's very new and exciting!"
So enamored is Liberty of her chandelier love interests, Amanda confesses to not going to bed every night with Lumiere, preferring to occasionally snuggle up with another of her fancy light shades called "Jewel" under the covers.
Explained Liberty: "None of my chandeliers are jealous of each other, they understand that I love them all for all of their different personalities.
"For example, I love kissing and cuddling Lumiere, but I sleep with Jewel every night, as she is portable and very nice to cuddle."
"I've always loved the look of chandeliers and when I saw my first chandelier, Luna, it was love at first sight. You can't control who you fall in love with and things just went from there."
"I spend my spare time restoring old and broken chandeliers to their former glory, which I really enjoy as I can tell that they enjoy the attention that they receive."
"My dream job would be to work in public buildings such as Buckingham Palace, looking after the grand chandeliers that they have there."
Having said that, lighting devices haven't always been Liberty's kindred source of attraction, with the objectum sexual having been sexually attracted to a range of  inanimate objects, over the course of the years.
Liberty's condition, Object sexuality or objectophilia as defined by wikipedia is a preference for sexual affinity with objects as opposed to other human beings.
Such individuals may feel strong feelings of attraction, love, and commitment to certain items or structures of their fixation. For some, sexual or even close emotional relationships with humans are incomprehensible.
Carol Santa Fe: Why I married a train station
Amanda Liberty engaged to chandelier: But her first love was a ten year relationship with a drum kit.
According to one interview she gave in 2010, (see above) Liberty acknowledged her first relationship was with a drum kit when she was just 14, only for her tastes to change and develop as she grew older. Naturally. 
At one point, Liberty confesses in a 2012 interview with the dailymail to having fallen in love with the Statue of Liberty — who she affectionately calls "Libby", having traveled to NYC six times to gaze longingly at the 305-foot tall monument.
So enamored was Liberty, in 2010 the Leeds woman changed her surname by deed poll from Amanda Whittaker to Amanda Liberty to show her commitment to the 142-year-old statue. Indeed.
However, Liberty struggled to have a long distance relationship with the monument, before turning to chandeliers.
A regard of the woman's living room sees it replete with memorabilia dedicated to the monument and she insists that she still loves Libby.
Liberty said: "People often can't understand that this is just a natural orientation for me, that I can find the beauty in objects and can sense their energy."
"I want others to see how happy the chandeliers make me and how much they've enriched my life."
"I'm not hurting anyone by entering into a relationship with them, I am simply just following my heart."