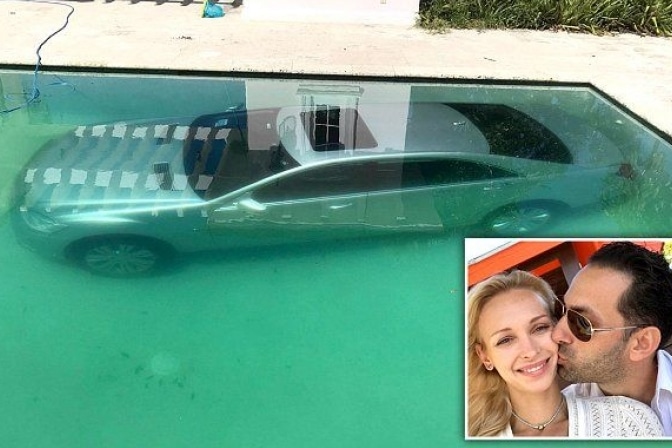 How Guy Gentile a Wall St banker found his Mercedes car at the bottom of the pool after dumping his Russian model girlfriend, Kristina Kuchma. 
Also making his weekend tabloid appearance is hotshot banker, Guy Gentile, 41, whose model girlfriend had the ultimate revenge on her ex after dumping her recently.
The nypost reports Russian born model Kristina Kuchma becoming furious after the high frequency Wall st trader broke up with her during a dinner near his Bahamas home, rather than fund her marketing business venture.
'Lier!' Kuchma, 24, texted Gentile in broken English after being dumped.
Continued the jilted lover, 'You told me you will help me to start a business! That were your words! Now you want to be an investor??? Well investor I have a surprise for you on a backyard, start with that investment idea first.'
Gentile, who previously came to tabloid prominence after running a pump-and-dump scheme on Wall Street in 2007, only to beat the charges after becoming an FBI informant had a delicious surprise when he came home the following morning.
It is there that the 'financier' came across his prized Mercedes S400 hybrid lying in the bottom of his backyard swimming pool. The base price for the model car starts at a mere $100K.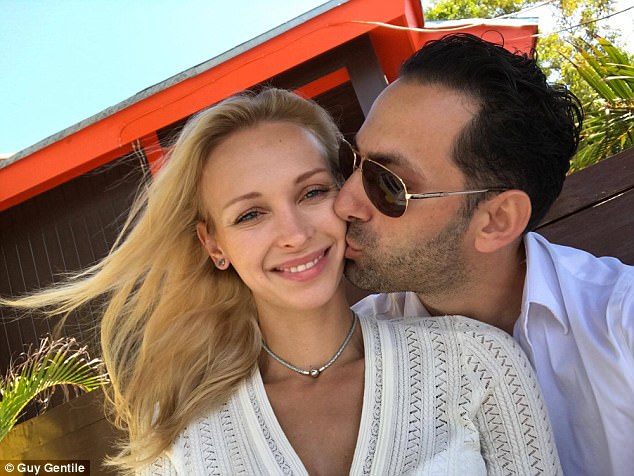 Guy Gentile: Cause dumping love is like dumping non performing stock.
Explained the demoralized banker, 'My heart dropped because of [fears she was inside]. I didn't care about the car at that moment,'
While adding, 'But after I realized she wasn't in it, then I start to get pissed off that she would pull something like this after everything I've done for her.'
Reiterated the prized catch, 'I dumped her. She dumped my car.'
The former couple who had traveled to Bahamas explained Gentile were having dinner at a restaurant when Kuchma 'pitched' him an in idea for a marketing business. A marketing start up that would get off the ground if he Gentile gift Kuchma $50,000.
To which the hot shot banker retorted via the nypost, 'I said, 'You know what? You got the wrong guy,' 
'If you want a guy who's going to hand you money for nothing, you got the wrong guy,' and promptly ended their year-and-a-half long relationship.
In turn, an incensed Kuchma, threw a cup of hot green tea in the banker's face.
Reflected the banker, 'It was really disrespectful to do that at a restaurant I dine at a lot in front of a good friend of mine'.
From there, Kuchma left the restaurant premises, along with Gentile's car keys.
It was there the following morning that Gentile came across his drowned vehicle, with operators taking over four hours getting it out of the water.
'I really loved this girl and would have married her,' reflected the hurt banker, 'but she went too far!'