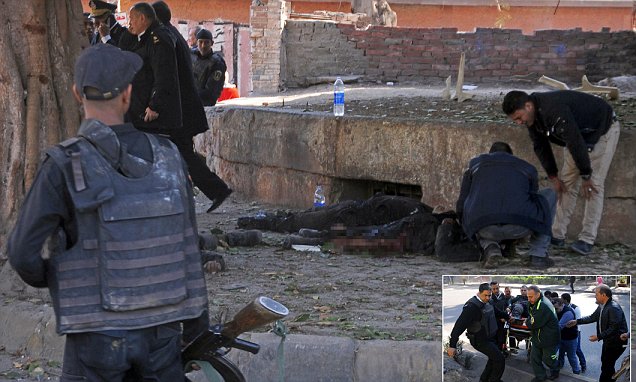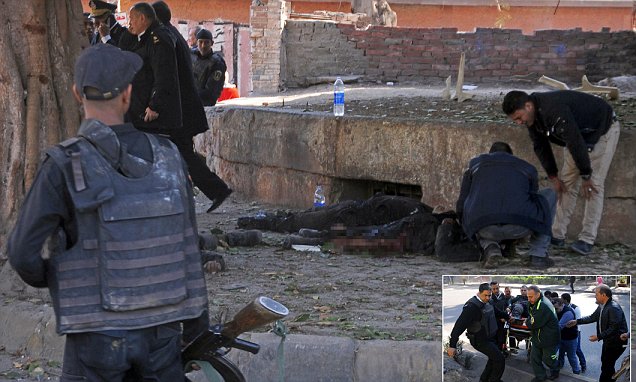 Egypt Cairo bomb blast claims the lives of 6 police officers, wounds three others and four civilians. No group claims responsibility in act of terrorism.
A bomb blast in Egypt's capital city of Cairo killed six policemen and wounded three otherwise Friday after exploding near a checkpoint.
The attack told Egypt's interior ministery took place near a government building in a middle class neighborhood of Cairo, was the latest in a series of security incidents in Egypt often claimed by radical Islamists.
Sources said the policemen were either in or near their car when the device went off.
In the aftermath of the blast, a report via the herald told of an underground group called Hasm, or 'Decisiveness,' which the government suspects is linked to the now-banned Muslim Brotherhood, claiming responsibility for the attack.
The group has claimed previous attacks in Cairo, including a shooting against the country's former chief Muslim theologian and a car bomb against the chief prosecutor's deputy. Both escaped unhurt.
'There is no safety or security for you as long as we hold our weapons in jihad for God, there is either victory or martyrdom,' the group said in a statement posted online.
The blast has since led to a security cordon being created around the scene of the attack near a mosque in the Giza district of the Egyptian capital.
A report via Reuters Television described eyewitness Ahmed Al-Deeb telling of a scene of carnage, with dead and dying policemen lying next to wrecked cars. One of the policemen had blast fragments in his chest and two more had lost legs.
#Cairo Bomb Blast Kills Six Police Officers https://t.co/LGJglonPZQ

— Neeshad V S (@ineeshadvs) December 9, 2016
Bomb blast in the most famous tourist street In #Cairo kills 6 policemen. #EGYPT pic.twitter.com/hbNUor8yPf

— Ahmed Hassan (@SHAWSHANK5) December 9, 2016
Reports: Cairo Bomb Blast Kills 6 Police https://t.co/WhoADHMzdM pic.twitter.com/5Wv5mL5FDs

— Евстефеев Степан (@evstefeevs4) December 9, 2016
Security forces killed three gunmen on Tuesday in a raid on a hideout in southern Egypt used by what they described as an armed wing of the Muslim Brotherhood, which claimed responsibility in September for an assassination attempt on a senior prosecutor.
An Egyptian general was killed by militants on Nov. 4 near his home in North Sinai in an attack for which Islamic State claimed responsibility. He was the second military officer of his rank to be shot dead in as many weeks.
Hundreds of soldiers and police have been killed in an Islamist insurgency led by Islamic State in the Sinai Peninsula notes huffpo.
Attacks have stepped up since the military overthrew President Mohamed Mursi of the Muslim Brotherhood, Egypt's oldest Islamist movement, in 2013 following mass protests against him.
Judges, policemen and senior officials have been targeted by radical Islamists angered by long prison sentences imposed on members of the now-outlawed Brotherhood.
Friday's attack comes as President Abdel-Fattah el-Sissi is defending tough economic measures undertaken by his government to address a growing financial crisis and secure a $12 billion loan from the International Monetary Fund.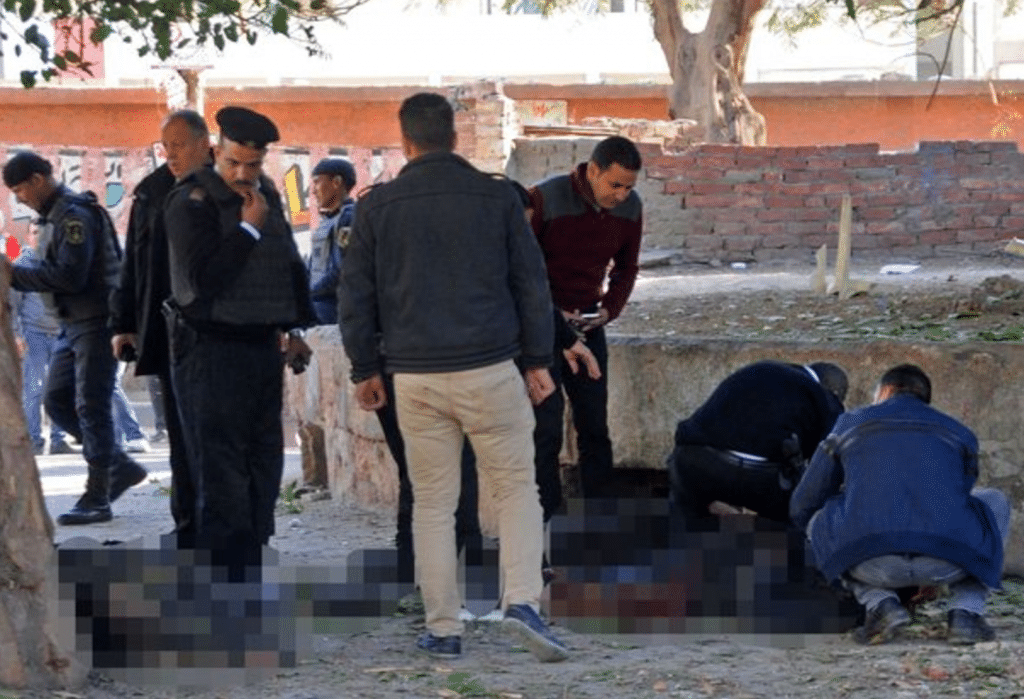 Bomb blast in the most famous tourist street In #Cairo kills 6 policemen. #EGYPT pic.twitter.com/hbNUor8yPf

— Ahmed Hassan (@SHAWSHANK5) December 9, 2016
#BREAKING: 6 Egyptian policemen killed & few injured in an explosion in al Harm street in #Giza, road leads to the Pyramids – @AlMasryAlYoum pic.twitter.com/P4KyDOHgPL

— Amichai Stein (@AmichaiStein1) December 9, 2016
Blast leaves six police officers dead, three wounded in Cairo https://t.co/L7vFp8CdrT pic.twitter.com/RpzBk2hO3B

— Press TV (@PressTV) December 9, 2016
Cairo bomb attack leaves six dead near Giza Pyramids as blast tears through roadside checkpoint#PrayingForEgypt https://t.co/LhHICV8y4I

— Denise Ellis (@addellis) December 9, 2016
ارتفاع عدد الشهداء في انفجار الكمين الامني بشارع الهرم

6 شهداء
استشهاد ضابطين + أمين شرطة + 3 مجندين
إصابة 3 مجندين.

11:50pm#Giza pic.twitter.com/GeNpWHmf8j

— احمد صالحAHmd SaleH (@iAHMEDsalih) December 9, 2016