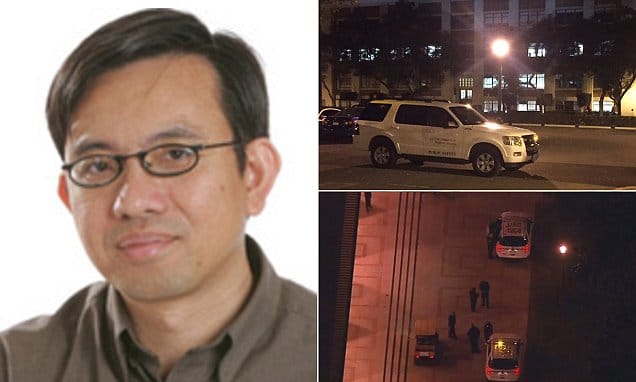 What led to Professor Bosco Tjan being fatally stabbed by Phd student Jonathan David Brown? The assailant had regarded the USC educator as a mentor.
Jonathan David Brown, a University of Southern California PhD student has been arrested after allegedly fatally stabbing psychology professor Bosco Tjan at a Los Angeles campus.
In a letter to the USC community, USC President CL Max Nikias told of the 50 year old neuroscientist being stabbed just after 4.30pm Friday inside the school's Seely G. Mudd building during class.
USC Department of Public Safety said the attack was targeted and 'the result of a personal dispute.'
An issued statement said Tjan had been stabbed multiple times in the chest, with the man pronounced dead at the scene.
Local reports note Bosco Tjan, an expert in vision cognition and perception being affiliated with the university since January 2001 as well as being a co-director of the Dornsife Cognitive Neuroimaging Center.
According to his LinkedIn profile, Bosco Tjan held a Ph.D. in computer science from the University of Minnesota.
According to Lt. Dave Smith of the Los Angeles County coroner's office, Tjan's full name was listed as Siaufung Tjan, 53, with the married father of one son hailing from Cerritos.
Arrested shortly without incident was David Jonathan Brown, a 28-year-old brain and cognitive science student, who for reasons yet to be necessarily discerned attacked his 'mentor'.
The killing occurred on the final day of classes before finals.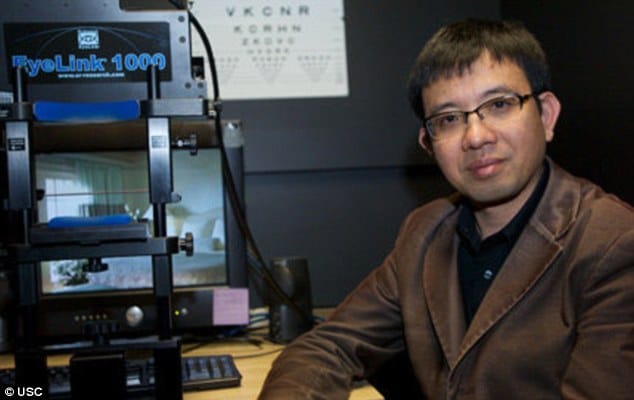 Brown was among just five students who worked in Tjan's lab that studied vision loss.
Of note, in a biography page about the lab and the students involved in it, a report via the ocregister said Brown was the only one without a detailed description or photograph.
Nathaniel Kwok, who recently finished working 18 months in the lab told of graduate students like Brown working in the lab 40 to 60 hours a week while developing their own projects in order to graduate.
Brown told Kwok, had been working in the lab since around 2013, with the Phd grad taking a leave of absence for personal reasons sometime last year that lasted roughly a semester.
Kwok said he didn't know why Brown needed the time off or how close to graduation he was.
'He seemed normal for the most part. He was a little on the reserved side, but he was nice. He was friendly,' Kwok said from New York, where he's now in medical school via the nydailynews. 'There was nothing that ever would have given me some kind of indicator that he would be harboring any kind of sentiment like this.'
Brown said Tjan treated him as a son and that he always loved the professor's frankness, sarcastic wit and sharp mind.
Outside Seeley G Mudd #USC where Prof #BoscoTjan stabbed to death. Grad student arrested @KNX1070 pic.twitter.com/jjgpvlovmD

— Ed Mertz (@knxedmertz) December 3, 2016
Kilho Shin, a brain and cognitive science graduate student who works in Tjan's lab, said Brown was a quiet student and seemed satisfied with Tjan's oversight.
'I don't know what exactly happened between them. But as far as I know, Bosco likes David's work and David also seemed to be satisfied with his supervising,' Shin said. 'Their conversation on research was healthy and constructive.'
Shin said he was shocked by Tjan's killing, adding that the professor was humorous, kind and warm, and a genius in his area of study.
'It is a big loss not only to me but also in this field and society. He has served his lab members as his family members, not just graduate students, including David Brown,' he said.
Reacting to the murder, Chris Purington, project manager at Tjan's lab, said he didn't know of any problems Tjan was having with a student, saying he was shocked by his mentor's killing. 
Offered Purington: 'He was somebody who really cared about people. I know he cared about me,'
'He mentored people, and he looked out for them. He spent a lot of time thinking about what it means to be a mentor and guide people.'
Also unravelled by the killing were on campus students.
Offered Yesenia Brasby, a freshman pre-med student via the Los Angeles Times: 'We feel safe in our little bubble, but that's just not the case. Anything can happen anywhere,'
Adding: 'I feel like I always try to be aware of my surroundings now,' 
'Just because there's a gate (on campus), doesn't mean something won't happen inside, on campus.'
USC has 44,000 students enrolled, including more than 10,000 international students.
A highly competitive school, it enrolled only about 16 percent of the more than 54,000 people who applied for its freshman class this year.
Upon his arrest, Jonathan David Brown was being held on $1 million bail Saturday with the man expected to be formally charged with murder in the days ahead.