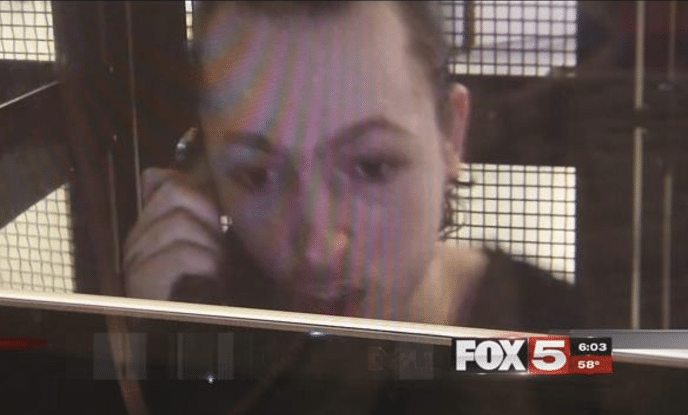 Erich Nowsch must serve a minimum of 14 years jail after firing off 24 gunshot rounds during a stand off which led to Tammy Meyers' murder.
Erich Nowsch a 21 year old Las Vegas man has been sentenced to life prison after shooting to death local woman Tammy Meyers, 44 in a road incident after believing he was shooting at 'bad' drug dealers.
Erich Milton Nowsch Jr was a then 19 year old teen when he shot a Las Vegas mom in a February 2015 incident which led to the teen claiming he was embroiled in a battle with drug dealers.
Told a weeping Nowsch prior to being sentenced by District Judge Michael Villani: 'I've never been in trouble my whole life.'
As part of his guilty plea, Nowsch will be eligible for parole after 10 years, but must also serve at least four more years on a weapons enhancement conviction notes the las vegas review journal.
During Thursday's hearing, Meyers' widower told the convicted killer that he will 'never' forgive him.
Told the grieving husband, Bob Meyers: 'I hope for me and mine that you burn in hell and you get what you have coming to you today, because you, mister, are an animal.'
The mother's shooting death told investigators came after Nowsch fired no less than 24 gunshots.
Erich Nowsch gets life sentence for murdering mom-of-four: https://t.co/5FNDiNqXxc via @YouTube

— CraZy InTresTinG (@crazyintresting) December 23, 2016
The woman's tragic death came whilst teaching her teenage daughter how to drive in a parking lot when another driver apparently threatened to kill the mother and daughter.
The mom, who was shaken, dropped her daughter off and picked up her son, who came armed with a gun. They drove around the area to confront that driver, who was never found.
Nowsch, who was on edge himself, said he had been walking in a park when he noticed a car following him. He said he had been dodging death threats linked to drug deals and street disputes and wanted to protect himself and his family, he told detectives.
He said he called a friend to pick him up. Nowsch told investigators he tried to scare off the car by flashing his gun, but he got upset when he saw the car near his house.
Authorities say Nowsch fired several shots at Meyers' car before chasing her to her home, where she got out of the car and was fatally shot in the head.
Meyers' son also shot back at one point, but he wasn't injured notes a report via the nydailynews.
Told the youth at the time during a taped interview: 'My intentions were to take someone bad out, not a loving, caring mom,'
'My intention was to take someone who was going to hurt my family out, not someone's mom, not Tammy.'
Of note, Nowsch's recorded interview included him calling his mother where he said, 'The only reason I confessed, Mom, was because they knew everything," he said. "They knew it was an accident.'
Derrick Andrews, who helped Nowsch as his driver, was sentenced to five to 15 years in prison after pleading guilty to voluntary manslaughter and accessory to murder.