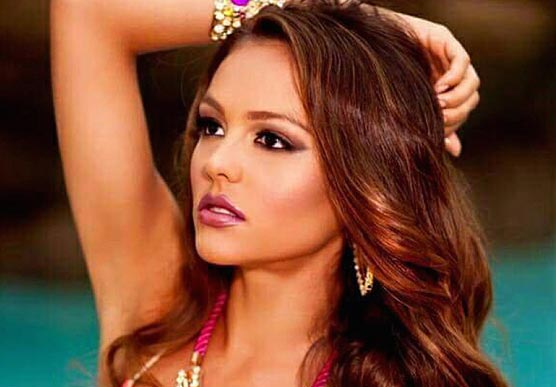 Did Kristhielee Caride let her attitude get the better of herself? How one beauty pageant winner may have let it all get to her head.
'Here today, gone tomorrow.' Such may be the thought running through the mind of Kristhielee Caride, the Puerto Rico Miss Universe 2016 who has been stripped of her title because of attitude problems.
The dethroning comes just four months after Kristhielee Caride after winning her beauty pageant title, after accusations that the beauty pageant winner was flippant during interviews along with telling organizers she didn't love cameras and skipping appearances for 'doctors' appointments.
Countered the 24 year old Caride: 'Beauty queens are not exempt from having a bad day,'
'I allowed my feelings to get in the way of my work.'
The call to strip Caride of her title came after pageant organizers called out the woman after a Sunday interview with a Puerto Rican newspaper where the vixen told a reporter she didn't love cameras along with dismissing the outlet's questions.
Told Desiree Lowry, the national director of Miss Universe Puerto Rico who just happened to be there during the interview: 'I wanted the earth to swallow me,'
'You always have to put your best face forward … it's a given that we are going to be in front of cameras and that we have to answer all types of questions.'
Lowry told of Caride telling having personal problems and 'it' wouldn't be happening again, while failing to apologize.
From there, Kristhielee Caride cancelled other appearances because she said she had a doctor's appointment which she refused to reschedule.
While conceding she didn't agree with her de-crowning, Caride said she'd turn in her sash with dignity.
According to a report via the nydailynews, Lowry presented the new Miss Universe contestant, Brenda Jimenez during a press conference in San Juan, with the new Miss Puerto Rico Miss Universe 2016 said to be exhibiting a 'somewhat surprised look' on her face.
Yes kids, I'm gushing, but probably not as much as Kristhielee Caride.
Told the beauty pageant replacement: 'I still haven't fully processed the information.'
It is the first time a Puerto Rico Miss Universe contestant has lost her crown before the big event is held. Miss Puerto Rico 1994, Brenda Robles, was dismissed during that year's Miss Universe contest because she was pregnant.