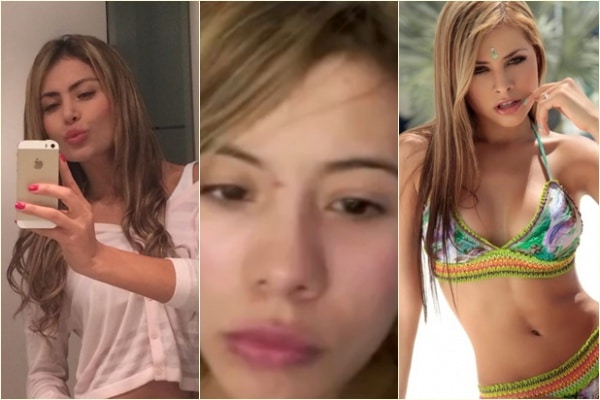 Colombian model Yeimi Rey has been arrested on video for kidnapping and torturing a rival who posted before and after plastic surgery photos of her after a social media spat turned violent.
The 21 year old's arrest caught in dramatic video came as the model was leaving the airport of capital city in Bogota while en route to Miami.
Rey's arrest came after her and her sister had an outstanding warrant after fellow model, Carolina Munoz reported the sisters for kidnapping and torturing her.
The 'revenge' attack told the model came after Munoz opened false social media accounts where she posted unflattering photos of before plastic surgery procedures.
In interviews with local press, Munoz told how on January 31, 2015, the sisters 'bundled' her into a car.
Told Carolina Munoz cited in a report via the dailymail: 'They bit me, tortured me, they pulled my hair, cut off my clothes, they left me bald, they electrocuted me,'
'They told me they were going to kill me, that they knew very powerful people and wouldn't be sent to jail, that I was the one who would end up losing and next time they will throw acid on my face and destroy my life.' 
Munoz also told of the sisters robbing her and publishing naked photos of her afterwards on social media.
According to local media, as the sisters left their abandoned victim in the street they crashed into another car and police arrived on the scene and arrested them, although they were set free shortly afterwards.
Munoz admits to creating the false Twitter accounts to shame the sisters, but in her defense held that this was also to get back at them for negative comments they had published about her online.
After a lengthy legal battle, Yeimi has finally been arrested and will now answer for the allegations made against her.
At present, Claudia Munoz remains at large with a warrant out for her capture. Indeed.